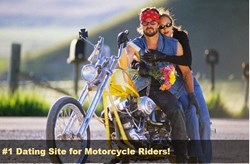 Los Angeles California (PRWEB) January 22, 2014
BikerKiss.com enjoys a large membership of motorcycle enthusiasts who are looking for dates, or just enjoying networking with other people who have similar interests. All members have the love of motorcycles in common, in addition to having the love of tattoos in common also, judging by the page on the popular dating site called "Biker Tattoo Show." A love of tattoos is common in the biker community, and the site encourages.
On the "Biker Tattoo Show" page, all of the members are encouraged to share pictures of their tattoos. According to the data provided by BikerKiss.com, over one thousand of bikers have uploaded their tattoos. Tattoos are popular among bikers, as is the love of sharing their tattoos. Over one thousand proud bikers have shared pictures of their tattoos on the page. After analyzing the pictures of the tattoos, BikerKiss.com has realized that the favorite place for their biker members to place a tattoo is on the upper am. Pictures posted on the page show that a tattoo can also be found anywhere on the person's body, including the back, arms, legs, breasts and even the back of one member's head. There are also many different kinds of tattoos featured on the page, with a few common themes standing out. There are animals, hawks, soldiers, motorcycles and flowers. Power and speed is a common theme among biker tattoos.
Whatever type of tattoo it may be, the tattoo is an important part of many bikers lives. It's more than part of the biker culture; most bikers see their tattoos as a way to express their lifestyle and individuality. There are special meaning behind their tattoos and bikers are very proud to show others their tattoos. Tattoos make the male bikers look more manly and make the female bikers look more sexy.
About BikerKiss.com
BikerKiss.com is the largest and most effective dating site for single bikers to find their match or friends. Members on the site come from all over the world because of the same interest. If you are looking for others to ride on Ducati, Harley, Triumph or BMW, BikerKiss is the right place.