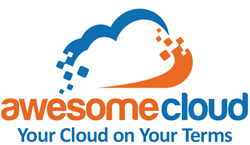 Boca Raton, FL (PRWEB) January 28, 2014
Awesome Cloud Services recently announced its plan to expand its growing Channel Partner Program in 2014. Expansion efforts are underway and include adding new technology solutions as well as new sales and marketing resources, enabling channel partners to grow their cloud services client base.
[eBook] Download the Cloud Sales Guide:
http://www.awesomecloud.com/channel-partners/resources/ebook/
As part of the Applied Innovations family, the AwesomeCloud team has been delivering hosted solutions since 1999. With 15 years of industry experience, AwesomeCloud is in the unique position to deliver the white label cloud infrastructure as well as the sales and marketing guidance to help established and aspiring partners alike add new recurring revenue through AwesomeCloud's Channel Partner Program.
With an array of cloud computing sales guides and marketing materials, AwesomeCloud delivers best-in-class white label cloud services as well as the sales and marketing resources to build your client base.
Learn More About Awesome Cloud Services:
http://www.awesomecloud.com/
About Awesome Cloud Services
AwesomeCloud is a White Label Cloud Services Provider offering cloud computing services to channel partners, enabling them to generate new revenue streams by delivering white label cloud services to each of their clients. AwesomeCloud offers a wide range of secure, customizable white label cloud computing solutions, including Infrastructure as a Service (IaaS), Business Continuity and Disaster Recovery, as well as Microsoft SPLA Licensing (Exchange, Lync, SharePoint, Office, and others).
Contact:
Jason Lurcott
Marketing Manager
Awesome Cloud Services, LLC
Direct Line: 561.948.4046
jason(at)awesomecloud(dot)com
http://www.awesomecloud.com/