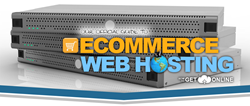 (PRWEB) January 19, 2014
HowToGetOnline.org, one of the most top web hosting review sites, today announced the winners for Best eCommerce web hosting in January of 2014, in which InMotion hosting was named to the top spot in this monthly award. In second place, HowToGetOnline.org, named WebHostingHub.com, followed by BlueHost.
Electronic Commerce, or eCommerce for short, refers to the activity of buying and selling online merchandise, services, and goods. eCommerce websites are virtual online stores where products/services are bought and sold. Such websites are typically integrated with shopping cart software such as Google Checkout, Magenta, or merchant accounts such as PayPal. Because of its nature, using a reliable and secure eCommerce web host is very important.
This award was granted based on the premise that InMotion was found to be the most popular and trusted name in the world of web hosting. Inmotion hosting has a wide range of hosting plans suitable for both small and large enterprises.
InMotion was selected due to the following reasons:
-High speed networks
-Easy backup and restoration procedures
-Increased bandwidth compared to other web hoisting options
-Suitable for both amateurs and pros
-Secure hosting, which makes it a good choice for e – commerce websites
-Excellent customer services
-Good choice for Joomla, WordPress and Drupal