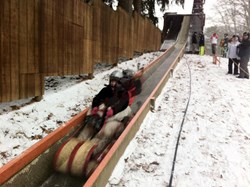 We're honored to maintain the tradition of the Toboggan run at Skytop Lodge - it's provided decades of fun to our hotel guests throughout the years!
Pocono Mountains, PA (PRWEB) January 20, 2014
The Skytop Lodge Toboggan Run dates back to Skytop's opening in the late 1920's. The wooden Toboggan run stands 30 feet tall and 200 feet long, maintained and updated yearly, this amazing ride shoots guests of all ages across Skytop Lake. Guests can ride alone or with each other, up to 3 or 4 adults in each Toboggan. Children of all ages can join in on this activity, although it is ideal for children at least 6 years of age and older.
This year's grand opening is January 19, 2014. Weather permitting. For the first time in several years, ice skating on Skytop Lake as well as Ice Fishing are now also open for the season.
About Skytop Lodge:
Opened in 1928, the majestic Skytop Lodge sits atop a hill surrounded by 5,500 acres of lush landscape, including an 80 acre lake, championship golf course, and exquisite gardens. The resort boasts multiple restaurant & dining outlets, 193 guest rooms, a modern conference center, and world renowned adventure center offering boating, skiing, ice-skating, zip lining, rock climbing, tennis, volleyball, extensive nature trails, and more. Skytop Lodge was announced as winner in the Best Resort, Best Hotel, and Best Golf Course Categories of the 2013 Reader's Choice Awards as issued by the Pocono Record.
####