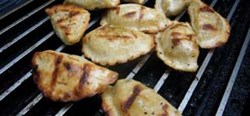 Frozen appetizers are a snap to grill by the plateful.
Cartersville, GA (PRWEB) January 28, 2014
The master grillers at GrillGrate, LLC know what it takes to spice up a party with mouth-watering grilled food. With Super Bowl XLVIII right around the corner, GrillGrate is providing tips on how to create perfectly grilled hors d'oeuvres using items found in any neighborhood grocery store's freezer aisle.
Be the star of this year's Super Bowl party by following the no-nonsense steps below to create perfectly grilled appetizers:
1. Hit the freezer section of the local supermarket. Fill the cart with bread sticks, pot stickers, cheese sticks, egg rolls, even ravioli – be adventurous.
2. Grab a bag or two of frozen wings.
3. Swing by the deli section for brats – no game day grill should be without brats. Just cut them into sliced bites with toothpicks, for an easy go-to finger food.
4. While in the deli section of the grocery store, pick up a couple of packages of MamaMary's Gourmet Pizza crusts – slices of par baked crusts are easy and fast to grill and are a great way to clear out the fridge of old dipping sauces.
5. For the final step, throw out conventional wisdom and heat up your freezer finds on the grill – this special twist is sure to shock guests and award you the title of "Super Bowl Party MVP."
Visit GrillGrate's online arsenal of grilling recipes for more fun and easy ways to become a master griller.
About GrillGrate:
GrillGrate is on a mission to help people expand their grilling prowess and expertise while producing better looking, better tasting, and healthier food. GrillGrate is an alternative grilling surface that makes it easier to grill all types of foods and grills food juicier without burning. Interlocking panels lay on top or replace the existing surface of a grill. The GrateTool fits between the valleys to gently lift food off the grill, not scrape. The GrateTool also doubles as a cleaning device to shovel debris out of the valleys when it accumulates. To learn more about GrillGrate's innovative products, please visit http://www.grillgrate.com. Downloadable Game Day Images on DropBox