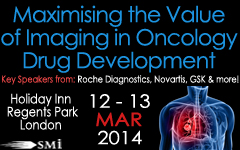 The roll of medical imaging is and will continue to be vital...
London (PRWEB UK) 19 January 2014
The roll of medical imaging is and will continue to be vital in that respect: Patients' stratification based on imaging biomarkers can help identify individuals suited for preventive intervention and can improve disease staging. Imaging is essential to patient-tailored therapy planning, therapy monitoring, quantification of response-to-treatment and follow-up disease progression. Especially with the rise of companion diagnostics/theranostics, imaging and treatment will have to be synchronized in real-time to achieve the best control/guidance of the treatment. In an age of personalised medicine, technique and practice need to be aligned. Creating and developing imaging strategies to drive both drug development and the delivery for correct treatment is key.
(Source: Pharmaceutical Intelligence, The roll of Medical imaging in personalized medicine, 2014)
SMi's 10th annual imaging conference will provide attendees with a comprehensive insight into the industry and its future. We will be considering the current landscape of personalised imaging within the field of oncology, as research suggests healthcare that is inherently more 'personal' is the way forward. Informative imaging strategies for success will be a highlight for our event, as well as the exploration of current and future legislation and its impact on imaging. The use of imaging in clinical trials will also be examined and discussed together with developing new imaging agents.
Event highlights at SMi's 10th annual Imaging conference include:

New opportunities for cost-effective imaging management
New alternatives to expensive independent reviews – hear from globally recognised experts
Discuss case studies, challenges and opportunities in imaging guidelines featuring Novartis and GSK
Gain an in-depth insight into the challenges of imaging in Europe
Evaluate the power of imaging strategically
Speaker Panel includes:

Dr Azeem Saleem, Head of Oncology Applications, Imanova Centre for Imaging Sciences
Lori Dodd, PhD, Biostatistics Research Branch, National Institute of Allergy and Infectious Diseases, US National Institutes of Health
Dr Marijn Vlaming, Research Scientist, TNO
Prash Krishna, Global Clinical Leader - Oncology, Novartis
Pallavi Chaturvedi, Imaging Project Manager, GSK Vesalius Imaging
Francois Lassailly, Head of in Vivo Imaging, Cancer Research UK
Dr Malcom Barratt-Johnson, Managing Director, PharmaMedic Consultancy Ltd
To view the full speaker line-up and conference programme, visit http://www.smi-online.co.uk/2014cancer-imaging27.asp.
Pharmacokinetics Pre-Conference Workshop | Led by Dr Marijn Vlaming, Research Scientist, TNO | 11th March 2014, London, UK
In this workshop various non- or minimally invasive methods to study pharmacokinetics in preclinical (in vitro and in vivo) and clinical settings will be presented. We will further describe methods to translate preclinical data to the situation in humans and options to obtain relevant data from humans early in the drug development process.