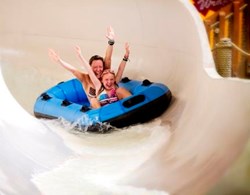 At the best indoor waterparks flip-flops are essential; no schedules are needed; splashing is allowed; silliness encouraged, and laughter prevails.
Tampa, FL (PRWEB) January 28, 2014
Indoor waterparks top the list when it comes to affordable family adventures during wintery months. The best of these indoor adventure spots make winter family fun easy by offering quick, easy solutions for families short on time but ready to make waves. At the best indoor waterparks flip-flops are essential; no schedules are needed; splashing is allowed; silliness encouraged, and laughter prevails.
"The cacophony of sounds, almost 90 humidity (no chance of rain) and bodies of all ages dressed in beach wear makes a terrific family escape when wintery gray days prevail. It isn't always size that matters but the quality of the space which allows children of different ages to have fun without conflict," according to Nancy Nelson-Duac, Curator of the Good Stuff for theFamilyTravelFiles.com.
The best indoor waterpark locations in the US and Canada offer families not just water thrills but an array of interactive ways to enjoy water play plus climbing walls, ziplines, laser tag theaters, and glow-in-the-dark gaming arcades. The list of best indoor waterpark spans the continent from New Jersey and Tennessee to Wisconsin and Alberta. The list includes not just waterpark resort venues but also independent waterpark locations with value added activities.
The best waterparks short list includes:
Wilderness at the Smokies in Sevierville, Tennessee. The queen of American waterparks, the Wild Water Dome Indoor Waterpark spans seven acres and includes a Surf Rider wave pool, countless waterslides, tubing rides, tipping water bucket and wading pools.
Kalahari Waterpark in Wisconsin Dells, Wisconsin. The family-friendly water complex contains offers Flowrider waves for surfing, lazy river floats, a water rollercoaster, lily pad jumps, and a spiral pipe flume ride.
World Waterpark in Edmonton Mall, Alberta. The five-acre waterpark complex includes a beach supporting world's largest wave pool so the surf is always up. There are more than 20 waterslides including super-fast body slides with free fall elements.
Sahara Sam's in West Berlin, New Jersey. The largest indoor waterpark in the state includes Flowrider indoor surfing, family rafting, lazy river floating, super-fast, extra-long body slide, a water obstacle course, and toddler lagoon.
Splash Lagoon Erie, Pennsylvania. One of the largest indoor wave pools in the Eastern US, an exhilarating aqua tumbler, a fast body slide, a thrilling tunnel slide, water basketball games, double-spinning rafts, lazy river, and laser tag.
The balance of the list includes Americana Resort Waves Waterpark, Niagara Falls, Ontario; Great Wolf Lodge Waterpark Resorts in Texas and Ohio; Fallsview Indoor Waterpark Niagara Falls, Ontario, and Water Park of America Minneapolis, Minnesota.
More family vacation adventures may be viewed in the Family Adventures folder at theFamilyTravelFiles.com. For family travel news follow The Family Travel Files on Twitter (@FamTravelFiles) straight from the homepage.
About theFamilyTravelFiles.com. Founded in 1998, theFamilyTravelFiles.com researches and posts the good stuff making it easier for parents or grandparents to plan great family vacations. The top-rated online family travel resource offers more than 1000 pages of family vacation ideas and trip planning information. The website specializes in destination and planning information, family travel advice, and family travel deals. The site features a number of vacation idea folders including Secret Places, All Inclusive, Reunions, Snow Places, Vacation Deals, and Camp Out.