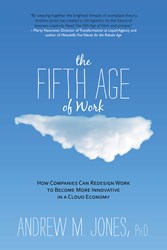 By 2020, 40% of the workforce will be considered so-called "contingent" workers.
Austin, Texas (PRWEB) January 21, 2014
In less than a decade, millennials will outnumber baby boomers in the workplace. By 2020, 40% of the workforce will be considered so-called "contingent" workers. Today, the new generation is already demanding more job flexibility, autonomy, and meaningful work than ever before. While it might seem like these trends could pose a threat to traditional business, Andrew M. Jones, PhD—business professor, management consultant, and author of The Fifth Age of Work: How Companies Can Redesign Work to Become More Innovative in a Cloud Economy (November 2013 / Night Owls Press)—argues that both independent workers and conventional companies have similar objectives: increased productivity, improved workplace morale, and utilizing technology to reduce costs.
In The Fifth Age of Work, Jones offers a fresh perspective on the way business leaders and innovators can harness the energy and potential of the up-and-coming workforce, take advantage of cloud technology, and create inspiring work environments. He delves into industry case studies and shares insights from his own research on work trends to help companies rethink their businesses. In order for companies to redesign how they work, innovate, and grow, Jones recommends they completely transform the way they approach the three major building blocks of workplace innovation:
1. New Talent and Structure. Instead of hiring candidates from traditional business schools and MBA programs this year, think outside the box. No matter what the industry, take on the challenge of recruiting and attracting new types of talent—designers, arts professionals, scientists, and others outside the business mainstream—and include their divergent perspectives into everyday problem-solving. Look into coworking spaces and offer alternative business school opportunities to employees like those offered at the d.school, IDEO, or Knowmads. Even consider following in the footsteps of companies like Zappos, which recently restructured using a new system called "holacracy."
2. Rethink Workspace. If managed thoughtfully, the work environment from desk layouts to floor plans can be a powerful driver of corporate culture—one based on community and respect for the individual that can spark innovative thinking. But it goes beyond just office design. Also take into account how independent workers have the freedom to vary the ways in which they get things done—working in quiet solitude alongside one or two coworkers, or working in large groups in open spaces—and apply that to a more holistic workplace redesign.
3. Work. Wherever … Whenever. It's been proven again and again that workers are more productive when they're allowed to work from home or telecommute on occasion. Now it's time to take it a step beyond that. Allowing workers to work whenever, wherever, and however encourages individual agency and a sense of autonomy and trust. Start by exploring more structural management strategies like ROWE.
For an accessible, practical blueprint on tapping the up-and-coming work culture to build more innovative, sustainable businesses for the future, read The Fifth Age of Work.
# # #
About Night Owls Press:
Night Owls Press is a small, independent press that publishes nonfiction books that challenge and re-imagine prevailing conventions about business, work, and life. They turn big ideas into great books and transform changemakers into authors. Their professional team of skilled editors, book lovers, and author advocates is based in Portland, OR and San Francisco, CA.