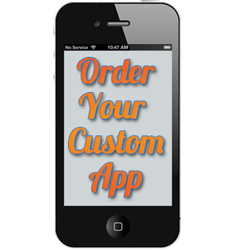 Musicians can now experience the real value of using an app to marketing their band.
(PRWEB) January 20, 2014
Custom Loyalty Marketing doesn't want a music fan to miss out on any opportunity to connect with their favorite band or musician. The company doesn't want musicians to miss crucial marketing opportunities because they think custom mobile app designs are not affordable. That's why Custom Loyalty Marketing is offering a complimentary mobile app design to musicians with no strings attached.
"Musicians are busy crafting their songs. They don't have time to think about or market to their growing fan base. But this is an important element within the entertainment business and marketing can't be ignored. Our mobile apps for musicians are affordable and offer real time updates that reach fans within a matter of seconds," said Phil Tomich of Custom Loyalty Marketing. "We are giving away the mobile app design to show musicians what they're not doing and how much branding value and actual sales they're missing out on."
Custom Loyalty Marketing's mobile app design for musicians includes the option to sell music through iTunes, event notifications, merchandise shops, social media integration, fan walls, and so much more. "It takes talent to make music. It takes innovative marketing to sell it. We combine both and do so at a price point within the struggling musician's budget," finished Tomich.
Members of the media are being invited to speak with Phil Tomich of Custom Loyalty Marketing to discuss current social media and app development trends. Musicians should call 773-802-9977 to take advantage of the iPhone and Android app design offer.
Custom Loyalty Marketing was developed by Phil Tomich in 2013 after he saw a need for strong customer service within the tech development and design industry. Mixing innovative design and coding work with an experienced team that appreciates exceeding customer expectations was important to him. Custom Loyalty Marketing's clients already include Hard Rock Hotel & Casino Florida, CPR (Cell Phone Repair), Yakitori Sake House, and more.