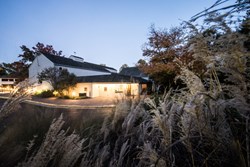 Vienna, Virginia (PRWEB) January 21, 2014
Ladysmith Black Mambazo
Monday, January 27, 2014 at 8 pm
Wednesday, February 5, 2014 at 8 pm
$40-$42
Three-time Grammy winners, Ladysmith Black Mambazo, have been sharing their uplifting South African isicathamiya (Zulu a cappella) musical traditions since the 1960s in frequent solo shows and in collaboration with renowned artists, including Stevie Wonder, Dolly Parton, and Melissa Etheridge. In 1986, the joyful, all-male a cappella group reached a global audience when they brought their rich vocals to Paul Simon's album Graceland in 1986. Their newest album, Always With Us (2014), pays tribute to Nellie Shabalala, the late wife of Black Mambazo founder-leader Joseph Shabalala, by making a fully-produced cycle of songs featuring their own voices alongside vocals she recorded before her death in 2002.
Video: Ladysmith Black Mambazo – "Homeless"
Schooner Fare
Friday, January 31, 2014 at 8 pm
Saturday, February 1, 2014 at 7:30 pm
$27-$32
The Maine-based band Schooner Fare is known for its unique repertoire of songs and its energetic concerts. With six- and twelve-string guitars and five-string banjos, the duo is adept at transitioning from Celtic folk to classic sea shanties and traditional folk. Their most recent album, Roots and Wings (2010), is self-described as a "reflective" project, as it reaches back toward their beginnings. Coupled with both classic songs and new interpretations of modern hits like "Angels in the Snow," the album mirrors the evolution of the band's musical output.
Video: Schooner Fare – "Portland Town"
An evening with David Crosby
Monday, February 3, 2014 at 8 pm
Tuesday, February 4, 2014 at 8 pm
Thursday, February 6, 2014 at 8 pm
$80-$90
David Crosby rose to fame as a founder of folk-rock band the Byrds in 1963 and continued to make musical history with the Woodstock era-defining group Crosby, Stills & Nash (CSN). As a member of harmony-rich CSN, Crosby penned famous tracks "Guinevere" and "Wooden Ships" on their 1969 self-titled debut album. It is included on Rolling Stone's list of the 500 Greatest Albums of All Time. The trio still performs together and embarked on a European tour in 2013. Crosby has been inducted into the Rock and Roll Hall of fame twice, once with Crosby, Stills & Nash, and a second time with the Byrds. In late January 2014 he will release CROZ, his first solo studio album since 1993, which Crosby says is experimental and different than anything he has done before.
Video: David Crosby – "Thousand Roads"
Washington Saxophone Quartet
The Discovery Series
Friday, February 7, 2014 at 8 pm
$35
To commemorate the 200th birthday of Adolphe Sax, Washington Saxophone Quartet celebrates the instrument Sax invented at this Barns performance. The ensemble is the most widely heard saxophone quartet in the United States and their recorded arrangements have aired daily on NPR's All Things Considered since 1997. The quartet has performed recitals, informal concerts, and master classes in the United States, the Caribbean, and China, and on television and radio worldwide for nearly 35 years. The ensemble taps into a rich repertoire, from early music to newly commissioned works, and draws on a wealth of experience to reach listeners of every age and background. Their newest album, Different Times, Different Places (2009), comprises a collection of the quartet's performances over the past decade.
The Alternate Routes
Saturday, February 8, 2014 at 7:30 pm
$22
Praised for their "unfailing melodic and soulful touch" (Performing Songwriter), The Alternate Routes are bona fide road warriors who win over audiences with catchy alt-rock singles and energetic live shows. Friends Tim Warren (vocals, acoustic guitar) and Eric Donnelly (lead guitar) founded the group in 2004 in Connecticut. Highlights from their musical career include opening a tour for O.A.R. and performing on Late Night with Conan O'Brien. The Alternate Route's introspective, pop-fueled single "Ordinary," from their 2007 album Good and Reckless and True, won a 2006 Independent Music Award for best pop/rock song. Their third studio album, Lately (2010), was recorded in Nashville and is more spontaneous and raw than previous records, reflective of the band's evolving sound.
Video: The Alternate Routes – "Oh My My"
Tickets can be purchased by calling 1.877.WOLFTRAP; or online at wolftrap.org.
For more information, call The Barns at Wolf Trap at 703.938.2404 or our general information line at 703.255.1900.
High-resolution images of the artists listed are available on Wolf Trap's website: wolftrap.org/Media_and_Newsroom/Photos_for_Publication.aspx.