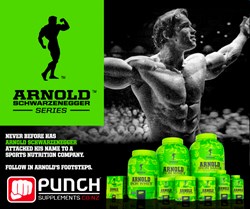 Auckland, NZ (PRWEB) January 21, 2014
The release of Arnold Schwarzenegger's own range of bodybuilding and sports supplements has been highly anticipated in New Zealand for the last six months. After what seemed like an endless wait for many, the MusclePharm Arnold Schwarzenegger Series has finally arrived in New Zealand. The online supplement retailer Punch Supplements are already stocking the Iron Pump pre workout, Iron Whey blended whey protein, Iron Mass weight gainer, and Iron Cre3 creatine.
Although NZ currently only has four out of seven products out of the Arnie range, reports suggest that the Iron Cuts fat burner will also be arriving soon. However, the Iron Pack multivitamin, and the Iron Dream sleep formula may take a little while longer. This is due to the need to reformulate these products to comply with NZ regulations.
Rumour also has it that a yet to be announced, eighth product, is in the development phase by manufacturers MusclePharm. Experts expect this product to be a testosterone booster, likely to be named Iron Test.