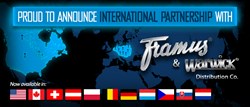 "Partnership with Warwick & Framus was an easy decision. We knew immediately our companies were culturally and ethically aligned, and we are honored to be represented by such class." Joe Vumbaco – President/COO of FxConnectx, LLC
(PRWEB) January 20, 2014
Warwick & Framus Distribution leads the music industry with stellar expertise, superb attention to detail, and the absolute highest level of customer service driven by each team member's passion for music and perfection.
This partnership will allow FxConnectx to rapidly grow throughout the European markets and release future products like our upcoming Digital UFS(Ultimate Flexibility System), as well as many others to come, while ensuring that quality, and proper brand representation standards are met, and/or exceeded.
FxConnectx intends to grow its distribution network throughout the world by partnering with leading distribution companies similar to Warwick & Framus, ensuring that artists worldwide will have access to the complete line of FxConnectx products.
About FxConnectx, LLC:
FxConnectx, LLC is a Technology group headquartered in Beverly Hills, CA, and is the first to perfect and release a full product line of wireless effects pedal, amplifier and mixer control systems.
Visit FxConnectx, LLC at the 2014 Winter NAMM in Anaheim, CA – Hall C – Booth #4598, where they will be showcasing and demonstrating their new tech breakthroughs, current product lines, and accessories.
Warwick and Framus Distribution Contact information:
Visit Warwick & Framus at the 2014 Winter NAMM in Anahiem, CA – Hall C – Booth 4576 to learn more about FxConnectx wireless systems.
http://www.warwick-distribution.de/
http://www.warwickbass.com/en/Home.html