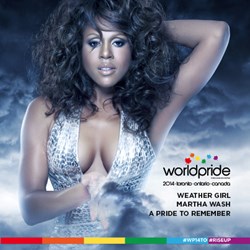 Toronto, Ontario (PRWEB) January 20, 2014
WorldPride 2014 announces historical partnerships with leading cultural institutions and welcomes Deborah Cox, Martha Wash and DJ's David Morales and Quentin Harris as the first in a list of premiere international artists to perform at the world's largest global LGBTQ celebration taking place in Toronto this summer.
Running from June 20 to 29, 2014, the festival will feature partnerships with major cultural institutions who have come together to support WorldPride 2014 with extraordinary programming during the festival, including: TIFF, Inside Out (presenter of the annual Toronto LGBTQ Film Festival), TD Toronto Jazz Festival, Art Gallery of Ontario, Ryerson Image Centre, OCAD University, the Gardiner Museum and Buddies In Bad Times Theatre.
"With hundreds of artists performing and unprecedented artistic partnerships taking place over 10 full days, the WorldPride 2014 arts and culture festival will be three times larger than the traditional Pride Toronto festival," says Kevin Beaulieu, Executive Director, Pride Toronto. "Deborah Cox is an international celebrity and home town favorite, who has supported Toronto throughout its bid for WorldPride 2014, and with the support we have received from Toronto's cultural institutions, it means our pride will be everywhere across the city."
The Official WorldPride 2014 Toronto Opening Ceremony will feature Deborah Cox, in a co-production with the TD Toronto Jazz Festival, bringing its 27 years of artistic arrangement together with WorldPride 2014, producing the most fabulous kickoff Pride Canada has ever seen. Deborah Cox will also perform a full concert experience at TD Wellesley Stage.
Martha Wash, "The Original Weather Girl," whose voice will rain down timeless pop and dance classics such as "It's Raining Men," will perform at the OLG Central Stage where attendees will also find crowd stopping International DJ's David Morales and Quentin Harris.
Inside Out and TIFF will join forces to co-present a multi-day film series during WorldPride 2014 that will feature screenings, artist talks and installations (details to be announced) highlighting the creative vision, diversity and talent of Canadian and international LGBTQ film and filmmakers – with events centered in the Toronto Entertainment District. Buddies In Bad Times Theatre, the world's largest and longest running LGBTQ theatre company, will feature a play for WorldPride called "The Lady Hamlet", written by Sarah Schulman.
WorldPride 2014 will also be host to two photography exhibitions; one in partnership with the Art Gallery of Ontario called "Fan the Flames -- Queer Positions in Photography," and the other in partnership with the Ryerson Image Centre called "What it Means to be Seen: Photography and Queer Visibility."
The Gardiner Museum celebrates its 30th Anniversary with Camp Fires: The Queer Baroque of Leopold Foulem, Paul Mathieu and Richard Milette. Onsite [at] OCAD University presents Generations of Queer: Robert Flack, John Greyson, Elisha Lim, and Kiley May. An exhibition centred on storytelling, creating dialogue and queer discourse.
WorldPride 2014 organizers are very excited to bring 10 full days of spectacular programming to Toronto; great artists, music and exhibits of varying styles and dimensions. The arts and culture festival will have something for everyone, starting with a spectacular opening ceremony supported by TD Toronto Jazz Festival and the City of Toronto, and will continue with music and artistry over 10 entertainment packed days.
More announcements will follow so stay tuned.
About WorldPride 2014 Toronto and Pride Toronto
WorldPride 2014 Toronto is an international celebration taking place from June 20 – 29, 2014 that incorporates activism, education, and the history and culture of global LGBTTIQQ2SA* communities. WorldPride 2014 Toronto is presented by Pride Toronto, producer of Canada's largest annual festival of LGBTTIQQ2SA* culture and human rights, under license from InterPride.
Pride Toronto is the not-for-profit organization that hosts the city's Pride Festival, an annual event in downtown Toronto during the last week of June and one of the premier arts and cultural festivals in Canada. It is also one of the largest Pride celebrations in the world with an estimated attendance of over one million people. It celebrates the history, courage, diversity and future of Toronto's LGBTTIQQ2SA* communities.
*LGBTTIQQ2SA is an abbreviation used to represent a broad array of identities such as, but not limited to, lesbian, gay, bisexual, transsexual, transgender, intersex, queer, questioning, two-spirited, and allies.
For more information, visit http://www.worldpridetoronto.com.
Please contact:
Trevor Hampden, Trevor(at)pridetoronto(dot)com
Communications Manager, WorldPride 2014 Toronto
(647) 465-6718