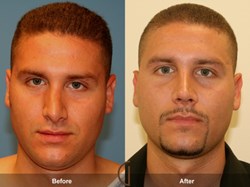 (PRWEB) February 04, 2014
The nose is a sensitive structure that protrudes from the center of the face, so it comes as no surprise that nasal injuries are relatively common injuries. While nasal fractures happen frequently, it's not always a condition or injury that people completely understand. Noting this, Orange County cosmetic facial surgeon Dr. Kevin Sadati has created a new tip sheet that provides his patients with information about this commonly over looked nose injury.
When Should Patients See a Doctor After a Nose Injury?
Patients should take the time to see their physicians as soon as possible once their nose is struck leaving a sore, swollen or possibly bruised nose or facial area. A septal hematoma can form even from a slight strike to the nose, which can lead to long-term issues down the road if they are not treated properly. If your physician believes the nose is broken, a patient should make an appointment with a board certified ENT head and neck specialist in order to assess the damage and develop a treatment plan. Again, It is preferable that all patients see a doctor sooner rather than later to prevent complications from arising due to a sustained and untreated nasal injury.
What Treatment Option are Available?
If the nasal bone is displaced to one side and is simply no longer aligned, it is possible that the surgeon will be able to treat the injury simply by repositioning the nasal bone. This procedure can be performed in the office and is done using local anesthesia.
When is Surgery Required to Treat a Broken Nose or Nasal Fracture?
If structural damage has occurred as a result of the injury, surgery may be required. Surgery might also be necessary in order to improve a person's appearance after a nasal fracture. Depending on the situation a surgeon may need to wait two weeks, or up to six months, since the initial injury in order to perform the operation. This allows the swelling to subside from the injury. Another reason why it is better to see your doctor immediately after the injury because if surgery is needed it should ideally be done after two weeks of the accident.
"Nasal fractures can range from moderate to severe, and treatment options will depend on the type of injury that each patient has. This is why it is essential to work with an experienced board certified surgeon who specializes in both nose and sinus surgery. This surgeon will surely provide you with the individualized results that you need from your nasal and sinus surgery," explains Dr. Kevin Sadati.
For additional information on both cosmetic and functional nose surgery, as well as sinus surgery you are invited to call the staff at Dr. Kevin Sadati's Newport Beach office today. Here, at the Orange County Nose & Sinus Center, they can answer all of your questions and set you up with an appointment for a consultation.