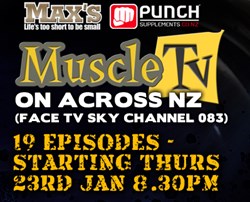 Auckland, NZ (PRWEB) January 23, 2014
Max's Muscle TV is one of Australia's most entertaining and popular fitness programmes. Its New Zealand premiere is due to air through Sky TV's Face TV at 8:30 PM, Thursday 23rd January. Currently, Max's Muscle TV is scheduled for 19 episodes and covers topics including training, nutrition, and supplements. The programme features experts in the world of fitness to help viewers build muscle, shred fat, or simply to improve overall fitness.
Max's are one of Australia's largest and best known protein manufacturers. Their high quality, user-friendly, and delicious products such as Super Size, Super Shred, and Super Whey have been a favourite among Australian bodybuilders, athletes, and fitness enthusiasts. In late 2013, Max's made the decision to cross over into New Zealand for the first time. Their products can now be found on the shelves of Punch Supplements, one of NZ's top supplement retailers.