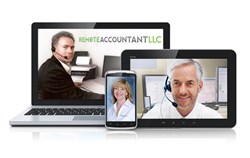 We primarily work through telephone, email, live video chat with clients, real-time secure and encrypted PC to PC connect for updating of accounting books or taxes.
New York, NY (PRWEB) January 20, 2014
With tax season right around the corner, small business owners and individuals are looking for a way to organize their finances before the April deadline. Remote Accountant LLC offers virtual accounting services that can be used throughout the year to ensure that everything is in order by tax time. The online accounting services can also be used for last-minute tax return filings, small business accounting or bookkeeping needs.
One of the problems that small business owners and entrepreneurs run into during tax time is determining which forms to use and what deductibles to include. By using a remote accountant, this issue is eliminated, since everything is done by a professional. Individuals who work 9 to 5 jobs can also find an online accountant to be beneficial. Those who use QuickBooks and other accounting software can implement this into the online accounting service, so that the professionals at Remote Accountant LLC can access and align financial data for bookkeeping and tax purposes. Bank accounts can also be integrated and used.
What sets Online-Accountant.us apart from local CPAs is its convenience and economical benefits. It is much more cost-effective for small businesses to integrate a remote accountant, rather than hiring a full-time, or even part-time accountant. The services can be used year-round or on an as-needed basis, allowing customers to control their budget and finances easily. This is all done without sacrificing the personal touch of engaging with an actual accountant – thanks to technology, live chats can be used, along with real-time encrypted PC to PC connections, which allows the professionals to do everything for the customer, such as accessing software, updating financial data, scheduling automatic accounting file updates and transferring password-protected files and documents securely.
Remote Accountant LLC has been in operation for over a decade, helping individuals and small businesses in all 50 states with all of their accounting needs. Providing virtual accounting services at the fingertips to anyone with Internet access and a computer, and at affordable prices, is how it has established itself as a leading online accounting service in the nation today. To cater to a large range of customers, the virtual accountants at http://www.remoteaccountantllc.com are able to fluidly speak English, Spanish and Polish.
Those who are looking to save money on accounting services, while still getting the benefit of receiving hands-on bookkeeping from an experienced professional, can turn to Remote Accounting LLC. To learn more about virtual accounting services, visit Online-Accountant.us today and watch their firm introduction video.