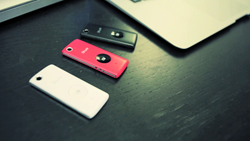 (PRWEB) January 27, 2014
iPhone camera remote control 'Shuttr' has finally ended the cold war between the iPhone and click savvy Apple aficionados. Until Shuttr happened, there was no way you could use the iPhone's camera app to click selfies and shake free long exposure shots by placing the phone on a stationary platform in "self timer mode". There is no self timer mode in the app. Chances are, Apple omitted such a basic feature by choice and no one seems to have a clue as to what the reason could be!
The long-awaited Shuttr from Muku Labs is finally out and it packs enough punch to make both selfie addicts and serious photographers happy. The Shuttr is basically a Bluetooth remote for iPhone, iPad and android phones that allows you to fire up the camera from a distance of up to 30 feet with a single click of a button.
Top online tech magazines cultofmac.com and gizmag.com ran featured stories of the Shuttr on their websites and gave positive reviews to this wonder gadget. Cultofmac went on to rate this as a five star product on their website and has recommended it for those who shoot a lot of self-portraits.
Charlie Sorrel from Cultofmac thinks that the asking price of $39.99 is well worth it if you want a hassle free device to remote trigger your iPhone camera. He also observed that the Shuttr being a Bluetooth device allows the user to click pictures with the iPhone/android phone without directly being in the line of sight of the phone. He mentioned that unlike the popular infrared remotes used with SLR cameras, the Shuttr allows the user to click pictures even when the phone is hidden in a corner and it has better range too. He was ecstatic to find that people went "crazy" when they were snapped off guard by leaving the phone silent and firing up the camera using this iphone camera remote control gadget secretly.
James Holloway from gizmag.com also found the Shuttr to be "impressive". He pointed out that for people who rely on the smart phone as an everyday camera, portability is a major issue and since the Shuttr easily fits in the pocket alongside the smart phone, one can easily carry it on him at all times and extend the functionality of the phone camera.
James also mentioned in his article that even though front facing cameras are widely used for selfies, "they are still tricky things". He observed that such cameras only allow taking photographs from arms' length and there is absolutely no control on what you want inside the frame. He feels, Shuttr has bridged the gap and because of its sturdy design can be carried outdoors to take long exposure shots with some long exposure apps available with the app store.
Both Cultofmac and Gizmag feel that this iphone camera remote control is worth every penny it asks for. Both magazines published hands-on reviews of the Shuttr and in both the reviews the highlights were ease-of-use, superb sensitivity, sturdy design, great workmanship (includes both exterior and interior) and competitive pricing.