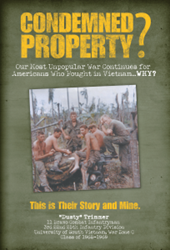 (The author) brings the war to life in vivid detail, as only someone who served there can do.
AURORA, Ohio –
(PRWEB) January 21, 2014 -- Veterans of the Vietnam War, now in their mid-60s to early 70s, made it through that dreadful conflict but were changed forever. Some tried to push their memories away, only to be haunted by what happened in South Vietnam, while others want to speak but find few who will listen. This new book by Dusty Earl Trimmer, himself a Vietnam veteran, shares his experiences and what it's like to live as a survivor of a very unpopular war that continues for those who served in that tropical country.
"Condemned Property?" provides a stark portrait of combat and its lingering effects on veterans, including the author. For instance, Trimmer changed jobs almost two dozen times because he couldn't find or keep a job with few employers wanting to risk employing a "crazy" Vietnam veteran, and he nearly killed himself in a high-speed sports car accident. Many of his fellow survivors came back unable to work, becoming homeless and unable to care for themselves. From descriptions of combat maneuvers to accounts of everyday nuisances – such as leeches and bathing in Agent Orange run-off and refuse-filled rivers – and the hostile welcome veterans had once they came home, Trimmer brings the war to life in vivid detail, as only someone who served there can do.
Trimmer writes that he wanted to publish the book to preserve memories of the Vietnam War veteran's generation as those veterans are dying every day, as well as to inspire them to never give up if they are trying to get help from the Veterans Administration. In Trimmer's continuing effort to help his fellow veterans, a portion of proceeds will be donated to disabled veterans, homeless veterans and highly rated military charities such as Army Emergency Relief, Intrepid Fallen Heroes Fund and the Wounded Warrior Association.
Author Dusty Earl Trimmer, who grew up in Cleveland and Twinsburg, Ohio, served as a combat infantryman with the 25th Infantry Division from 1968-69 in the Vietnam War, often serving as point man. Those two years, more than 30,000 Americans died in battle. He worked as a marketing and sales consultant, earning sales achievement awards, and formed his own company in 1987 representing high-level multibillion-dollar trade publishing companies. Trimmer and his wife, Ginny, married in 1984. Although this is his first book, he published an article in 1991 in "Vietnam, Our Story – One on One."
----------
For additional information, please visit http://www.condemnedpropertybook.com.
Condemned Property?
Dusty Earl Trimmer
Dog Ear Publishing
ISBN: 978-1-4575-2290-1 484 pages $25 US - Paperback
ISBN: 978-145752-533-9 484 pages $29 US – Hard Cover
Available at Ingram, Amazon.com, Barnes & Noble and fine bookstores everywhere.
About Dog Ear Publishing, LLC
Dog Ear Publishing offers completely customized self-publishing services for independent authors. We provide cost-effective, fast, and highly profitable services to publish and distribute independently published books. Our book publishing and distribution services reach worldwide. Dog Ear authors retain all rights and complete creative control throughout the entire self-publishing process. Self-publishing services are available globally at http://www.dogearpublishing.net and from our offices in Indianapolis.
Dog Ear Publishing – self-publishing that actually makes sense.