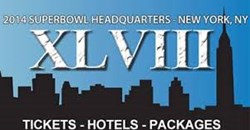 "The biggest player in determining the price of Super Bowl tickets won't be [Russell] Wilson or [Peyton] Manning, but Mother Nature,"
Buffalo, NY (PRWEB) January 20, 2014
Why are some brokers speculating record breaking VIP Superbowl tickets sales for this year's Superbowl that could reach a million dollars for just one suite?
We are now less than two weeks away from a historic Superbowl XLVIII. It will be the first Superbowl held in the New York/ New Jersey area and the first outdoor cold-weather Superbowl ever played.
It has now been determined that the Denver Broncos and Seattle Seahawks will be Superbowl opponents. "The biggest player in determining the price of Super Bowl tickets won't be [Russell] Wilson or [Peyton] Manning, but Mother Nature," said Nick Giammusso, President & CEO of VIPSeats.com, a Buffalo, New York-based brokerage, which was selling upper-level seats Monday for $2,550 and lower-level seats for $3,450.
The weather forecasters are calling for colder than normal temperatures in the mid 20's at kickoff. In this case, we are sure to see more winter hats, scarves and gloves on spectators than you would normally ever see at such a prestigious corporate event as the Super Bowl. "The combination of cold weather and such a large pool of local area corporate buyers are spiking demand for VIP club seats and suites that offer a place to get warm", says VIPSuperBowlTickets.com Director of Marketing Alex Szczesny. I have no doubt the demand will be there, especially with the forecast of very cold weather and people that will start looking for seats with indoor access.
MetLife Stadium has a seating capacity of about 82,566. There are over 10,000 vip club seats and over 220 luxury vip suites that offer access to a climate controlled environment. In addition to higher demand because of the possibility of foul weather, supply this year has been severely constricted. In years past, suite holders for the Jets and Giants would have gotten access to their suites for the Super Bowl, which they could in turn sell for a hefty profit. This year, the NFL pulled its version of eminent domain and took away suites from team season ticket holders to include them as part of million-dollar sponsorships for the NY/NJ Super Bowl host Committee. The committee has 28 sponsors, and when you add to that teams, the league, and existing sponsors, there are likely less than ten suites on the market, compared to 30 in an average year.
There are options for those wanting to watch the game in warmth but only if they are willing to shell out some big bucks this year.
While ticket prices for this year are about 15% above the four-year average, the difference in suite prices are anywhere from 80% to 300% higher. In years past, a suite could cost from $150,000 to $250,000. This year, prices are starting at $450,000. The luxury VIP suites at MetLife Stadium can hold anywhere from 12 to 30 people. Most offer outdoor seats in addition to a climate-controlled lounge with televisions and catering. At least there will be food and an open bar. Not only are the local corporate buyers pressuring the VIP Superbowl seats market but also those companies in Denver and Seattle that will want to entertain. Consider that Seattle's Microsoft alone has over $63 billion in cash on their balance sheet.
Thus, a million dollar sale for a VIP luxury suite or two is conceivable with increasing demand for suites and very little supply.
MetLife also offers club areas for some ticket holders, which would offer respite from the cold, but not the same ability to watch the game on the field from inside. Still, at an estimated $6,500 and up, the club seats are a cheaper way to get out of the cold, Giammusso says. Wall Street had a great year and the Super Bowl is a way for companies to celebrate corporate relationships and entertain clients.