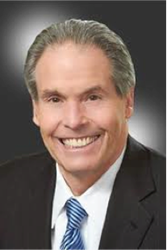 Being in sports for over 40 years I have felt the connectivity sports elicits with its fans and its business partners, Vixlet will bring that experience to a new level, I am enthused about joining their advisory board.
Los Angeles, CA (PRWEB) January 21, 2014
Vixlet, LLC today announces it has appointed Mr. Jed Hughes as a member of its Advisory Board. Hughes, highly respected professional and intercollegiate head hunter and vice chairman of the Korn Ferry sports sector, is a leader in identifying and developing sports executives and corporate relationships. He will help guide Vixlet's accelerated growth into the sports market.
"Jed's in-depth knowledge and longstanding industry relationships will be helping us formulate and execute innovations in the sports space," said Bob Damon, chairman of the Vixlet advisory board.
"Jed is an invaluable asset when it comes to understanding the world of sports and will be key for planning and implementing our sports strategy in an effective way " said Krishna Gopala, co-founder and executive vice chairman of Vixlet. "I am honored and thankful to Jed for having accepted the position and we look forward to be guided by his deep industry insights."
Hughes is currently the Vice Chairman, Global Sector Leader, Sports for executive search firm Korn Ferry. He started his career as a successful college and professional football coach and then parlayed that experience into a successful business career as the pre- eminent senior level executive search consultant in the sports industry.
"Vixlet is leading the way with online interactions actions that will connect people with things that they have in common such as passions, interests, life styles and brands; being in sports for over 40 years I have felt the connectivity sports elicits with its fans and its business partners, Vixlet will bring that experience to a new level, I am enthused about joining their advisory board." said Jed Hughes
About Vixlet LLC.
Vixlet is pioneering the new frontiers of Social Media with its software platform and ways people connect with their passions and interests. Vixlet now prepares itself for aggressive commercialization. Vixlet is headquartered in Los Angeles with representative offices in New York and Netherlands. For more information, register today at http://www.vixlet.com and get an exclusive invite for a peek into the future of social networks.
Visit music.vixlet.com for a taste of things to come with Vixlet in the world of Indie music