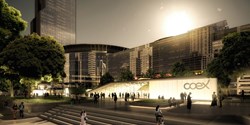 2014 is also set to see a record number of international congress attendees grace the center
Seoul, Korea (PRWEB) January 20, 2014
Coex Convention and Exhibition Center in Seoul is geared up for another busy year, as it releases its 2014 exhibition and convention schedule.
Coex's in-house organized exhibitions are expected to continue to expand. Food Week Korea, Coex's largest in-house organized exhibition, is once again to be co-located with the ever-growing Seoul International Bakery Show in the fall. In April, Coffee Expo Seoul is expected to welcome over 50,000 visitors eager for a slice of Korea's booming coffee market, while Automation World, Korea's leading tradeshow in its field, will see the merging of both aimex and the World Vision Show, offering visitors a complete picture of all-things automation.
Coex's biz-matching programs and national pavilion packages, offered by the dedicated exhibition organizing teams, will continue to optimize business and trade opportunities for exhibitors and buyers from overseas.
Meanwhile, 2014 is also set to see a record number of international congress attendees grace the center. The IHPBA World Congress 2014, 19th Cardiovascular Summit TCTAP 2014, 33rd Congress of the International Society of Blood Transfusion, 2014 International Congress of Mathematicians, and World Evangelical Alliance National Assembly 2014 are each expected to attract between three to seven thousand guests to Coex this year.
Along with the on-site hotels and transport facilities, from December visitors to the center will be able to enjoy a brand new range of global brands and restaurants, as they shop to their hearts' content in the newly renovated Coex Mall. Coex pins its success within the global events industry on its ability to offer 'everything an event organizer or attendee could need, right under one roof.'
For a full list of Coex organized exhibitions, please visit the website. For specific convention or exhibition enquiries please contact the Coex Global Marketing Team on +82-2-6000-1121 or rmshepherd(at)coex(dot)co.kr
Visit the Coex website: http://www.coex.co.kr/eng
Like Coex on Facebook: https://facebook.com/CoexKorea