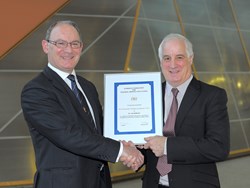 ...throughout my career I have always endeavoured to ensure that the welding process was considered as a process that needed to provide proven evidence of adherence to procedure from start to finish
Gloucestershire, UK. (PRWEB UK) 21 January 2014
The Award, which is only open to holders of a European Welding Engineer diploma, recognises Alan's long-term achievement in delivering the responsibilities of a welding coordinator in accordance with ISO 14731 and ISO 3834‐2. Welding organisations from thirty countries were invited to nominate their best welding coordinator for the prestigious award and Alan Robinson from the United Kingdom was selected as overall winner.
Alan has a European Welding Engineer diploma and is a Senior Member of The Welding Institute. He is also a certified European Welding Engineer (EWE), has a Masters Degree in welding, and is a Chartered Engineer registered with the Engineering Council. He founded Arc Energy Resources 20 years ago and, in addition to his role as head of welding engineering, he still maintains an active involvement in all aspects of the company's development.
Commenting on the award Alan said, 'I recognised early in my career as a welding engineer that the output of a welded product could not be judged with any certainty after the event. I was at that time moving from the brutal 'test to destruction' methods used by the mining industry to the defect evaluation non-destructive techniques employed in the nuclear industry – both equally as effective. In the days when BS 5750 reigned as the quality standard, welding was viewed always with suspicion. Consequently, throughout my career I have always endeavoured to ensure that the welding process was considered as a process that needed to provide proven evidence of adherence to procedure from start to finish.'
Today, Arc Energy Resources employs 70 people and has an impressive list of qualifications including ASME U, U2 & National Board R Stamps, ISO 9001:2008 quality management system, ISO 14001:2004 environment management system, Investors in People (bronze) and OHSAS 18001 health and safety management system. The company also remains one of relatively few welding specialists that have certified compliances with ISO 3834-2 welding quality standard, including conformance to ISO 14731 Welding Coordination.
Alan is keen to ensure that future engineers have the opportunity to learn about welding and apply their skills in order to develop the business further. Consequently his company is providing both welder and graduate apprenticeships and is supporting welding engineering training through the TWI training schemes.
The company encourages young people in engineering learning, regularly entertaining students for work experience and supporting educational initiatives that encourage STEM subjects such as the EDT Go4Set project.