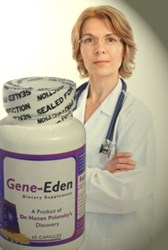 Patients that experience severe fatigue don't have to continue suffering. We believe that individuals should ask their doctors about Gene-Eden-VIR. - Mike Evans, polyDNA
Rochester, NY (PRWEB) January 21, 2014
Many people with high blood pressure take Lisinopril (Prinivil), which effectively treats "high blood pressure (hypertension), congestive heart failure, and to improve survival after a heart attack" (See Drugs.com) (2). On the down side, the Mayo Clinic writes on its website that Lisinopril use is associated with a number of side effects, including extreme fatigue (3). polyDNA recommends that patients who take Lisinopril also take Gene-Eden-VIR. This natural product was clinically proven to reduce fatigue in a study that followed FDA guidelines.
All blood pressure medications may suppress the nervous system and drain the body of valuable and necessary nutrients. This can reduce energy and cause fatigue. Lisinopril may specifically cause a number of detrimental side effects, all of which contribute to feelings of weakness and tiredness. These side effects include: decrease in urine output or decrease in urine-concentrating ability, dizziness, faintness, or lightheadedness when getting up suddenly from a lying or sitting position, sweating, chills, cough, diarrhea, difficulty breathing, ear congestion, fever (and) headache (3).
Lisinopril is in a group of drugs called ACE inhibitors. "We calculate that at least 100 million prescriptions are filled for ACE inhibitors each year." (See peoplespharmacy.com from June 6, 2013) (4). In other words, there are over 100 million people in the United States that may experience extreme fatigue as a side effect of their blood pressure medications.
polyDNA points out that there are no FDA approved drugs that specifically treat fatigue.
A clinical study, conducted by scientists at the Center for the Biology of Chronic Disease (CBCD), and which followed the FDA guidelines for clinical studies, showed that Gene-Eden-VIR safely and effectively decreases the feeling of fatigue in treated individuals. Specifically, the study found that the natural antiviral product decreased the feeling of mental and physical fatigue (5). The abstract of the study was posted on the Center for the Biology of Chronic Disease website on December 28, 2013 ahead of publication.
"Patients that experience severe fatigue don't have to continue suffering. We believe that individuals should ask their doctors about Gene-Eden-VIR. As the scientists from the CBCD wrote, 'healthcare practitioners should recommend Gene-Eden-VIR as a treatment against fatigue.'" – Mike Evans, polyDNA
To learn more about Gene-Eden-VIR, and how it reduces fatigue, visit http://gene-eden-kill-virus.com/decreases-fatigue.php. All orders of Gene-Eden-VIR are completely confidential, and no information is shared or sold to any third party. Privacy is assured.
References:
(1) Evaluation of adverse effects of lisinopril and rosuvastatin on hematological and biochemical analytes in wistar rats. August 29, 2013.
http://www.toxicologyinternational.com/article.asp?issn=0971-6580;year=2013;volume=20;issue=2;spage=170;epage=176;aulast=Dodiya
(2) Drugs.com - Lisinopril
http://www.drugs.com/search.php?searchterm=lisinopril
(3) MayoClinic.org - Drugs and Supplements - Lisinopril (Oral Route)
http://www.mayoclinic.org/drugs-supplements/lisinopril-oral-route/description/DRG-20069129
(4) Lisinopril Side Effects Can Be Lethal. Published June 6, 2013.
http://www.peoplespharmacy.com/2013/06/06/lisinopril-side-effects-can-be-lethal/
(5) Gene-Eden-VIR is Effective Against Fatigue: Results of a Post Marketing Clinical Study Conducted According to the FDA Guidelines. Page last updated on December 27, 2013.
http://cbcd.net/Gene-Eden-VIR-Decreases-Fatigue-Clinical-Study.php
polyDNA is a biotechnology company that develops dietary supplements using the unique scientific method developed by Dr. Hanan Polansky, which is based on Computer Intuition.
In addition to his unique scientific method, Dr. Polansky published the highly acclaimed scientific discovery, called Microcompetition with Foreign DNA. The discovery explains how foreign DNA fragments, and specifically, DNA of latent viruses, cause most major diseases.
polyDNA developed Gene-Eden-VIR, an antiviral natural remedy that helps the immune system kill latent viruses.