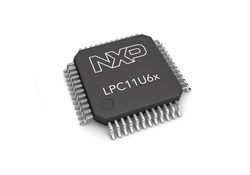 Eindhoven, Netherlands and San Jose, California (PRWEB) January 20, 2014
NXP Semiconductors (NASDAQ: NXPI) today announced the availability of the LPC11U6x – its newest family of easy-to-use, USB-IF certified USB microcontrollers. The LPC11U6x family builds on the ease-of-use and design flexibility of NXP's award-winning LPC11Uxx portfolio with a range of enhanced features, including a more energy-efficient ARM® Cortex™-M0+ processor, significantly more flash and SRAM, more serial communications, a new 2-Msps ADC and more versatile timers. These additional features allow the LPC11U6x to tackle a wider range of applications in consumer, commercial and industrial markets such as metering and data collection, wired and wireless routing, handheld medical equipment, and PC/gaming accessories, among others.
Like all LPC11Uxx MCUs, the LPC11U6x family includes a USB device controller certified by the USB Implementers Forum (USB-IF) and gives designers access to all the USB software, tools and shortcuts they need to simplify development and reduce time to market. Embedding the USB drivers in ROM cuts design time and shrinks application program footprint while increasing reliability, while an on-chip PHY reduces the solution BOM and design complexity. Furthermore, NXP provides a royalty-free USB device driver stack, extensive example code for popular device classes, and a free PID/VID program which make USB development easy for designers with any level of USB expertise.
"For consumers, USB is synonymous with ease of use. We offer microcontrollers with embedded USB functionality that is just as simple and fast for developers to use — no USB expertise required," said Ross Bannatyne, general manager, mass market microcontroller product line, NXP Semiconductors. "And with significantly more on-chip memory and connectivity resources, the LPC11U6X offers customers a simple, no-risk solution for USB configuration in a wider range of demanding embedded applications."
To support more demanding data and buffering requirements, as well as larger application code sizes, the LPC11U6x extends memory options by doubling flash to 256 KB and tripling SRAM to 36 KB. More rigorous I/O requirements are supported by expanded serial connectivity, including 5 USARTs, 2 I2Cs, 2 SPIs, and up to 80 GPIOs, along with a new 12-channel, 12-bit, 2-Msps ADC for higher bandwidth and higher-precision input. New to the LPC11Uxx Series, the LPC11U6x utilizes an ARM Cortex-M0+ core for exceptional power efficiency.
LPC11U6x MCUs also include both standard and configurable timers/PWMs for advanced timing requirements. Higher operating temperatures (up to 105 ºC) make them suitable for more industrial environments.
Key LPC11Uxx Features

USB 2.0 device (12 Mbps, formerly called Full Speed USB) with on-chip USB PHY and integrated ROM drivers including Human Interface Device Class (HID), Mass Storage Device Class (MSC), and Communication Device Class (CDC)
ARM Cortex-M0+ processor, up to 50 MHz
Up to 256 KB flash, up to 36 KB SRAM
4 KB EEPROM
5 USARTS, 2 I2C, 2 SPI, and up to 80 GPIOs
12-channel, 12-bit, 2-Msps ADC
Timers: 2 SCT/PWMs, 2 16-bit timers, 2 32-bit timers
Low power features: RTC, low power modes, power profiles
Packages: LQFP48, LQFP64, LQFP100
LPC11U6x is fully supported by the LPC software ecosystem and an extensive collection of tools, drivers and middleware, as well as popular forums and blogs in constant use by a highly engaged and collaborative community of embedded developers. Free to all LPC11Uxx developers, the NXP LPCXpresso development platform includes a full featured C/C++ IDE and LPCOpen firmware libraries complemented by low-cost target boards with on-board debug probes. LPCOpen incorporates device drivers, stacks, and graphics libraries that enable rapid code development and can be used with a wide range of third-party RTOSs, middleware solutions, and popular third-party ARM development tools including Keil and IAR. LPC11U6x is software- and tool-compatible with existing LPC11U/Exx and LPC134x parts, simplifying migration and end-product planning.
Availability
Parts are available from NXP distributors worldwide with recommended distribution pricing in 10K quantities starting at US $2.16. Development boards for the LPC11U6X family are also available immediately through NXP-authorized distributors.
Links

About NXP Semiconductors
NXP Semiconductors N.V. (NASDAQ: NXPI) creates solutions that enable secure connections for a smarter world. Building on its expertise in High Performance Mixed Signal electronics, NXP is driving innovation in the automotive, identification and mobile industries, and in application areas including wireless infrastructure, lighting, healthcare, industrial, consumer tech and computing. NXP has operations in more than 25 countries, and posted revenue of $4.36 billion in 2012. Find out more at http://www.nxp.com
Forward-looking Statements
This document includes forward-looking statements which include statements regarding NXP's business strategy, financial condition, results of operations and market data, as well as other statements that are not historical facts. By their nature, forward-looking statements are subject to numerous factors, risks and uncertainties that could cause actual outcomes and results to be materially different from those projected. Readers are cautioned not to place undue reliance on these forward-looking statements. Except for any ongoing obligation to disclose material information as required by the United States federal securities laws, NXP does not have any intention or obligation to publicly update or revise any forward-looking statements after NXP distributes this document, whether to reflect any future events or circumstances or otherwise. For a discussion of potential risks and uncertainties, please refer to the risk factors listed in NXP's SEC filings. Copies of NXP's SEC filings are available from the SEC website, http://www.sec.gov.