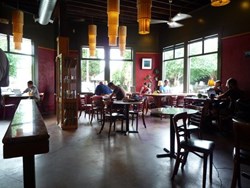 Seattle, WA (PRWEB) January 21, 2014
Now a Seattle coffee institution, Caffe Ladro opened its first location on Upper Queen Anne in 1994. From the intimacy and quirk of that single café and bakery, they've now grown to fourteen locations in the greater Seattle area that maintain the signature friendly atmosphere, quality baked goods, and delicious coffee. Caffe Ladro has always been a pioneer of sustainably and ethically produced coffee and in 2011 the launched a new division of the company, Ladro Roasting. Now they are sourcing their own green coffee and roasting single origins and blends to perfection at their Queen Anne roaster.
The Ladro bakery is the workhorse of the operation, delivering fresh pastries and dessert to all of their stores every day. All of the baked items in their stores are made in their bakery. They offer a wide selection of coffee and other beverages. Caffe Ladro also displays art from local artists on its walls. New art is rotated in on a regular basis.
"The owner turned to Restaurant Furniture Supply for commercial chairs because of their reputation for excellent quality at affordable prices," explained sales person Chris K. "He opted to go with the Rounded Ladder Back Metal Chair with a black frame finish and black vinyl seats. It's one of our most popular chairs across America. As a popular cafe he needed a classic chair that they knew would be durable and stand up to heavy usage without getting wobbly or breaking, like a chair not constructed for commercial use would tend to do," Chris K. said.
Restaurant Furniture Supply's Rounded Ladder Back Metal Chair is currently on sale for $35. The padded seat is made in the USA and comes in vinyl or fabric in many different colors. A custom seat can also be upholstered in any material for an extra cost. In addition to the padded seat which the owner selected, the chair also comes with the option of a wood seat in cherry, dark mahogany, walnut, natural and black finishes. A custom finish can also be made. The frame comes in black, gold, copper vein, silver vein or gold vein.
Restaurant Furniture Supply also makes a matching Rounded Ladder Back Metal Bar Stool which is on sale for $52. Many of their chairs can be paired with matching bar stools so restaurant owners can create a more cohesive look. Currently Restaurant Furniture Supply is offering free shipping on an order of 16 Rounded Ladder Back Metal Bar Stools or 24 Rounded Ladder Back Metal Chairs.
Browse Restaurant Furniture Supply's full selection of commercial grade chairs, bar stools, table tops, table bases, booths and patio furniture at http://www.restaurantfurnituresupply.com/or talk to a customer service representative at (888) 346-9992.
Caffe Ladro is located at 600 Queen Ann Ave.in Seattle, WA. They can be reached at (206) 282-1549.