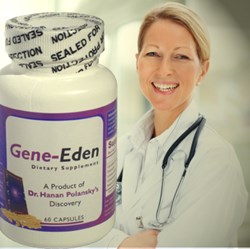 We think this research might indicate that from an evolutionary perspective, men are a more recent target of the HPV virus. - Mike Evans, polyDNA
Rochester, NY (PRWEB) January 22, 2014
Men have weaker immune responses to the human papillomavirus (HPV) in comparison to women (1). In other words, male immune systems are unable to control the latent virus as efficiently. "This is supported by serologic studies (studies of the blood) that find a higher prevalence of HPV antibodies (proteins used by the immune system) in women than in men across all ages (1)."
polyDNA recommends that men take Gene-Eden-VIR to help their immune system target the latent human papillomavirus (HPV). This natural product was clinically proven to reduce symptoms of an HPV infection in a study that followed FDA guidelines.
New HPV infections are found in up to 39% of men every year (1). In men with healthy immune systems, HPV infections are cleared in 6 months or longer. However, in about 10% of all cases, when men have a weak immune system, HPV infections will persist. This can cause a variety of serious health problems. (See the CDC website last updated on July 25, 2013) (2).
For men, an HPV infection can lead to conditions, including genital warts, penile, anal, and oropharyngeal cancer (head and neck cancer) (2). It is worrisome that penile cancer has increased over the past 3 decades (1).
The CDC notes that "HPV is passed on through genital contact, most often during vaginal and anal sex. HPV may also be passed on during oral sex and genital-to-genital contact. HPV can be passed on between straight and same-sex partners-even when the infected partner has no signs or symptoms." (See the CDC's Website, last updated on February 5, 2013) (3).
"We think this research might indicate that from an evolutionary perspective, men are a more recent target of the HPV virus. We therefore recommend that men with an HPV infection take Gene-Eden-VIR to help their immune system target the latent virus." – Mike Evans, polyDNA
Men infected with the latent HPV virus can ask their doctors about Gene-Eden-VIR, or they can go online to learn more. Gene-Eden-VIR is a safe, natural product that was proven to reduce HPV symptoms in a clinical study published in the peer reviewed, medical journal Pharmacology & Pharmacy, in a special edition on Advances in Antiviral Drugs on August 12, 2013.
The study showed that Gene-Eden-VIR reduced HPV symptoms and was safe and effective (4). "Up to 70% of those studied reported a decrease in HPV symptoms (4)."
Each ingredient of Gene-Eden-VIR was chosen through a scientific approach. Scientists scanned thousands of scientific and medical papers published in various medical and scientific journals around the world to identify the safest, most effective natural ingredients that target the latent form of HPV (4).
Doctors can view the paper on Gene-Eden-VIR here: http://gene-eden-kill-virus.com/PP_Gene-Eden-VIR-is-Antiviral.pdf.
To learn more about Gene-Eden-VIR and HPV, visit http://gene-eden-kill-virus.com/HPV-Remedy.php. All orders of Gene-Eden-VIR are completely confidential, and no information is shared or sold to any third party. Privacy is assured.
Reference:
(1) Urologic Oncology: Seminars and Original Investigations. Published in January 2014.
http://www.sciencedirect.com/science/article/pii/S1078143913003207
(2) CDC - Sexually Transmitted Diseases (STDs) - Genital HPV Infection - Fact Sheet. Last updated on July 25, 2013.
http://www.cdc.gov/std/HPV/STDFact-HPV.htm
(3) CDC - Human Papillomavirus (HPV) - What is HPV? Last updated on February 5, 2013.
http://www.cdc.gov/hpv/whatishpv.html
(4) Gene-Eden-VIR Is Antiviral: Results of a Post Marketing Clinical Study. Published on August 12, 2013.
http://gene-eden-kill-virus.com/PP_Gene-Eden-VIR-is-Antiviral.pdf
polyDNA is a biotechnology company that develops dietary supplements using the unique scientific method developed by Dr. Hanan Polansky, which is based on Computer Intuition.
In addition to his unique scientific method, Dr. Polansky published the highly acclaimed scientific discovery, called Microcompetition with Foreign DNA. The discovery explains how foreign DNA fragments, and specifically, DNA of latent viruses, cause most major diseases.
polyDNA developed Gene-Eden-VIR , an antiviral natural remedy that helps the immune system kill latent viruses.