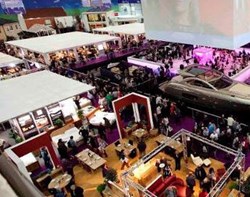 The trade show calendar is going to save people a lot of time.
(PRWEB UK) 21 January 2014
Trade show display equipment specialists Discount Displays are pleased to announce the launch of their Trade Show Calendar, a database of upcoming events and exhibitions with powerful filters.
As reported in Exhibition News, there is an increasing amount of competition in the event venue industry, buoyed by the renewed growth of the trade show market. Industry experts such as the Convention Industry Council report that in the US alone $263 billion is spent over the 1.8 million events, exhibition and conferences during the year.
The options available to potential attendees and exhibitors have never been greater, but this means finding the right event can be a time consuming endeavour.
With Discount Displays Trade Show Calendar, everything is there on the same page, with options to filter by show name, city, country, region, date and industry. The database includes over 4,000 listed trade shows, events and exhibitions, any one of which can be found within seconds. An intuitive design makes the tool user friendly and includes direct links to the event pages, making for a seamless interaction.
Alan Johnson, part of the marketing initiatives team at Discount Displays said today, "The trade show calendar is something we have been wanting to include for some time now, and now it is up and running I think it is not only going to save people time, but give them a starting point for finding events in their industry, be it someone looking to attend or a business looking to promote themselves."
Having thousands of events listed in one place is certainly going to be a time saver, gone are the days of having to create your own spread sheet of upcoming events and noting down the web addresses to check over manually.
Discount Displays are trade show equipment and large format printing specialists based in London and have over 25 years' experience in the industry taking the hard work out of choosing display equipment for trade shows and exhibitions.
For more information about Discount Displays and to browse their range of trade show equipment please visit http://www.discountdisplays.co.uk.