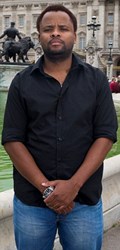 Mr. Hiri is precisely the type of individual that the policy is not intended to catch.
London, UK (PRWEB UK) 21 January 2014
Duncan Lewis Immigration Solicitors have been granted permission for Judicial Review of the home office policy that meant that Poloko Hiri, a Sapper in the British army, would allegedly face deportation for a speeding offence which according to Court documents, left the Home Office "not satisfied that the good character requirement was met".*
According to Court documents, Botswana national Hiri had his application for UK Citizenship rejected by the UK Border Agency in 2012 due to a single speeding offence .*
Documents state that Hiri had received a "£100 fine and five penalty points"* for speeding. The Home Office stated in documents that "(they) do not consider this offence to be minor and could find no grounds to disregard it exceptionally."* While this wasn't considered a dangerous driving offence, it allegedly led to his application for British Citizenship to be rejected by the UKBA on the account that the single offence didn't satisfy his "good character requirements"*.
Hiri, who has a young daughter in the UK, enlisted as a Commonwealth serviceman in the Royal Engineers in August 2008. He had dreams of becoming a soldier, but was too old to join the Botswana Defence Force.
He said;
"Iraq and Afghanistan were still going on. I knew that I might have to put my life on the line and go to a warzone. I was prepared for that."
Hiri became a design draughtsman, drawing up plans for bases, roads and other construction projects and joined 73 Armoured Engineer Squadron, 21 Engineer Regiment and completed exercises in the UK and Canada.
According to court documents in August 2011, he gave 12 months notice that he wanted to leave the army to take a degree in archaeological technology at London South Bank University. This was a move which was "fully supported" by commanders.*
Furthermore, according to court documents, if deported to his native Botswana, Hiri would face arrest, prosecution and up to 25 years in jail, where enlisting in a foreign army is considered a criminal offence.*
Duncan Lewis Solicitors, who were recommended in the Legal 500 2013 guide, have had their application to Judicially Review the Home Office policy approved and is set to be heard in February.
Toufique Hossain, the director of Duncan Lewis' Immigration and Public Law Department said of Mr Hiri's case;
"Mr. Hiri is precisely the type of individual that the policy is not intended to catch. He is not only a man who takes great pride in his nation's allegiance with the Commonwealth, but he is a man who was willing to give his life for this country as a result of serving in the British Army. To continue to deprive him of citizenship for nothing more than a speeding offence, which was not classed as dangerous driving, is an outrageous decision especially in light of our client's exemplary record when serving in the UK's Armed Forces."
*Poloko Hiri v SSHD- Administrative Court- CO/10413/2012
About Duncan Lewis
Duncan Lewis, established in 1998, is the largest civil legal aid practice in the UK and one of the country's fastest growing firms of solicitors, serving both corporate entities and private individuals from offices across London and throughout the UK. A recommended leading law firm by Law Society Lexcel, Legal 500; Duncan Lewis employs over 500 members of staff and was the first law firm to achieve the Investors in People Gold Quality Standard Mark in 2009. Representing over 25,000 clients per year, the company has an excellent reputation in the Administrative Court, High Court and Court of Appeal in the Immigration, Public law and Family/Child Care jurisdictions.
Established areas of law are: business immigration, child care, civil liberties, clinical negligence, community care, crime and fraud, dispute resolution, debt and insolvency, employment, family and divorce, housing, asylum and immigration, litigation, mental health, personal injury, prison law, professional negligence, public law and administrative law, regulatory matters and welfare benefits.