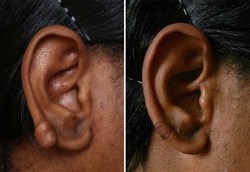 CryoShape often flattens keloids after one treatment without changing skin pigment.
Philadelphia, PA (PRWEB) January 21, 2014
Keloids are composed of excessive scar tissue and occur in areas of trauma. They most commonly occur in people of Mediterranean or central African descend. Common sites for keloids include earlobes and chest. Not only are they cosmetically unsightly but they often cause significant itching and discomfort. Surgical excision is not the preferred method of treatment due to high recurrence rates. Up until now the standard method of treatment has been with monthly injections of anti-inflammatory medication in an attempt to soften and flatten the keloid and relieve its symptoms.
"We are thrilled to be able to offer this cutting edge technology to our patients," says Franziska Ringpfeil, MD, the founder of Ringpfeil Advanced Dermatology. CryoShape uses cryogen technology to freeze up to one inch sized keloids away, often in one treatment. A probe is inserted in the keloid under local anesthesia. The scar tissue is then destroyed from the inside out. Mild discomfort can occur and a period of healing is needed but this technology allows for keloid treatment without resulting loss of pigment. Not all types of keloids qualify for this treatment however. The keloid has to be shaped so that the probe which is about the thickness of a skinny pencil can be inserted into it. The treatment is not currently covered under most health insurance plans. But finally another option is available locally to individuals who have suffered with these disfiguring uncomfortable scars.
Ringpfeil Advanced Dermatology provides premium general dermatology, cosmetic dermatology, dermatological and laser surgery to the Philadelphia, Main Line, and Delaware Valley area. The practice was founded by Franziska Ringpfeil, MD, a board certified dermatologist with training in both the US and Germany as well as national and international recognition through lectures, peer-reviewed articles and many book chapters. She is assistant professor at Jefferson Medical College and the recipient of the prestigious Young Investigator Award by the American Academy of Dermatology. Her practice provides uncompromised quality of care through experience, technology, and focus on patient satisfaction.
For more information and pricing regarding CryoShape call 610-525-5250 or visit us at http://www.ringpfeildermatology.com/philadelphia/keloids.php.