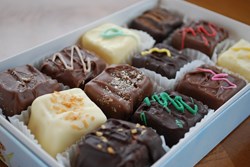 "Taste the Passion is one of the peninsula's favorite events," shares Lorri Hathaway, Director of the trail. "The food is delicious, and the slower-paced time of the year makes for a relaxing wine tasting experience."
Leelanau Peninsula, MI (PRWEB) January 20, 2014
The Leelanau Peninsula Wine Trail's annual celebration of wine, love and chocolate is set for February 8 and 9, 2014. Taste the Passion gives attendees an opportunity to sample the region's wines paired with local food while enjoying a festive wine tour. Tickets are $35 for the weekend event, and lodging packages are available from plenty of local hotels and vacation rentals.
The featured wine and food pairings for each of the 21 participating wineries have been announced and are listed below. The list is also available on the Leelanau Peninsula Wine Trail's website, http://www.lpwines.com.
Bel Lago Vineyard & Winery of Cedar is all about cherries and chocolate this year. They are pairing delicious Cherry Wine (handcrafted with fresh Balaton cherries) with decadent chocolate fudge brownies topped with Balaton cherry sauce.
Black Star Farms of Suttons Bay is dishing up chocolate eclairs, dark chocolate-dipped pastries with chocolate pastry cream, paired with Sirius Raspberry dessert wine.
Sip award-winning 2011 Pinot Noir with decadent, heart-shaped chocolate brownies with Leelanau cherries at Blustone Vineyards in Lake Leelanau. And, if that's not enough, the brownies are drizzled with a chocolate – Pinot Noir ganache – which is back by popular demand.
Belly up to the brownie bar at Boathouse Vineyards of Lake Leelanau. The yummy treats are being paired with Pinot Noir.
Brengman Brothers at Crain Hill of Traverse City is serving a mini chocolate zucchini cupcake with cream cheese frosting and chocolate grenache. 
Chateau de Leelanau of Suttons Bay says, "We'll be serving our often-imitated but never-duplicated, charcoal grilled, zesty mole' chicken wings paired with a 'you call i' of either our Dry Riesling or our Riesling Select."
Grab a pulled pork BBQ slider with homemade coleslaw on the side paired with the Laughing Waters Dry Rosé at Chateau Fontaine in Lake Leelanau.
Cherry Republic Winery of Glen Arbor is getting creative, dishing out chili with chocolate in it. The interesting dish is being featured with their wide selection of cherry wines.
Ciccone Vineyards & Winery in Suttons Bay is serving a yummy chocolate fudge cake paired with Bella Ciliegia.
Forty-Five North is pairing Charles Layton Sea Salt Chocolate Truffles infused with their own 45 Red wine and a choice of Dessert Wine or 45 Red Wine.
Gills Pier Vineyard & Winery of Northport is featuring 2012 Whitewater wine with Morsels Bakery's (of Traverse City) "Ciao it Down" Italian Crème cake.
Good Harbor Vineyards of Lake Leelanau is heating up the tasting room with lip-smacking chili paired with Harbor Red.
Warm up at Good Neighbor Organic Winery of Northport with white chicken chili with cheddar biscuits paired with Pinot Noir or Gewürztraminer.
L. Mawby/M. Lawrence  of Suttons Bay is serving M.Lawrence Redd with regionally famous Grocer's Daughter chocolate.
Laurentide Winery of Lake Leelanau is featuring 2012 Semi Sweet Riesling paired with "Hole Mole Pumpkin Shooters", a special soup where chocolate meets savory spice for a passionate twist.
Make your way to Leelanau Wine Cellars of Omena for 2012 Baco Noir paired with a delicious and creamy parmesan mushroom risotto.
Over in Cedar, Longview Winery is serving Semi Dry Riesling with Swiss chesse soup. Yum!
Shady Lane Cellars of Suttons Bay is serving Oaxacan Chicken Mole paired with 2011 Franc 'n' Franc, a red blend of Blaufrankisch, Cabernet Franc and Merlot.
Silver Leaf Winery of Suttons Bay is flaunting hot, saucy meatballs along with Fling, their fabulous rosé.
Try Leelanau Apple Tart with Maple Mousse and Caramel paired with Late Harvest Riesling at Verterra Winery in Leland.
Tickets and information about Taste the Passion is available online at http://www.lpwines.com. For more information, call the Leelanau Peninsula Wine Trail office at 231-271-7100 or email info(at)lpwines(dot)com.