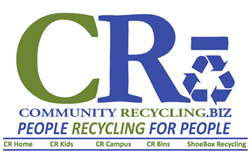 This is an open call to action for schools across the country to sign up now.
Nationwide, USA (PRWEB) January 28, 2014
Calling all students, teachers, PTO's, PTA's, principals and families! Connect now and sign up to take action. Community Recycling wants to celebrate Earth Month (April 2014) with CR Kids at every K-12 school across the country. This gargantuan effort is designed to educate and engage the future eco-ambassadors of the planet and connect them to the people and places their clothing collection will go for reuse. CR Kids is an innovative, no-cost, 30-day event designed for students to collect clothes, shoes, bags, purses and backpacks for reuse. Schools earn funding by the pound and great rewards as families and neighboring communities clean up and green up in full support of clothing reuse.
"We have set out on a mission to celebrate the cause of clothing recycling, with reuse as the central feature that connects people all over the world," said Ira Baseman, president of Community Recycling. "Our goals are enormous and we want students everywhere to join in on the Reuse Movement."
What is CR Kids?
CR Kids is a clothing recycling program like no other. Schools will receive a CR Kids branded PODS container (portable outdoor storage unit) for students to fill with gently used clothes and other soft goods, shoes, bags, purses and accessories. Community recycling provides a fully developed program, complete with the collection bags, marketing tools and other support to educate, engage and enlighten. Children learn about where the clothing goes and about the people and places the materials ultimately land. There are fun, supporting educational activities and curriculum along with all the tools needed for a super successful Earth Month Challenge. CR Kids also provides a progressive rewards system for the students as well as a fundraising component for the school. All schools that achieve the minimum level of activity receive a one-of-a kind world map constructed from used clothing. The ultimate reward for all students is the ability to win an iPad for their school to connect (via our partnership with Skype in the Classroom) with a school in the country where their goods touch ground. As with all CR programs, it always comes down to one thing: People Recycling for People.
"This is an open call to action for schools across the country to sign up now," said Lance Charen, VP of Partnerships and Business Development. "Schools are the heart of a community and we have enjoyed a tremendous relationship with kids and their parents who have already participated with CR Kids. Now is the time for every school to take action and join the Reuse Movement. It is fun, easy, and incredibly rewarding."
How to sign-up for the CR Kids Earth Month Challenge
Schools must sign up by March 25, 2014 to be a part of the CR Kids Earth Month Challenge. (Schools can also sign up to host a CR Kids collection program any time of the school year.) Call 215-600-1202, email crkidsearthmonthchallenge(at)communityrecycling(dot)biz, or sign up here. Once signed up, a CR Kids representative will make contact, provide details and answer any questions. The more successful the CR kids Earth Month Challenge, the more positive results for the planet and people.
Rewards and Earnings
Once Community Recycling retrieves the schools PODS container, the contents will be weighed and results will be sent along with a Certificate of Reuse. Soon to follow will be earned rewards and a check to be used at the discretion of the school for the pounds collected. Progressive Rewards start at 2,000 lbs. for a gorgeous, handmade global map made from recycled clothes; 5,000 lbs. adds CR Kids badges for the class; 7,500 lbs. adds a $100 Visa Gift Card for the classroom and 10,000 pounds adds an iPad for the class to keep and set up for a meeting in a sister class in the country where the clothing now resides. Community Recycling will follow up with where in the world the collection will travel and an accompanying lesson on that region of the world. Every school's a winner earning rewards, raising money and promoting environmental responsibility and reuse.
Why clothing recycling?
In a recent report from the US EPA titled, Municipal Solid Waste Generation, Recycling and Disposal in the United States: Facts and Figures for 2011* clothing and textile recycling has among the highest levels of impact on reducing greenhouse gasses. The report further stated that today's clothing recycling rates have the equivalent impact of removing one million cars from the nation's roads. That is more than more than five times the impact of recycled yard trimmings, more than four times the impact of glass recycling, more than plastics recycling, and nearly the same impact as recycling aluminum.
Join the Reuse Movement and sign up for CR Kids today.
###
ABOUT COMMUNITY RECYCLING
Community Recycling is proud to be a for-profit clothing recycler with a focus on REUSE. They have flipped the recycling triangle upside down and have mastered the most powerful 'R,' REUSE, with more than 98% of the goods collected destined for REUSE here and around the world. Engaging people in the communities where they live is essential to making the recycling process as convenient as possible. Community Recycling is effectively diverting millions of pounds of clothing, shoes and other secondhand things from landfills, generating new revenue streams for municipalities, townships, boroughs, commercial retail locations, schools, charities, thrifts; and fueling local economies by creating jobs both here and in emerging countries. Community Recycling offers a portfolio of innovative recycling programs including CR Home, CR Kids, CR Campus, CR Bins and ShoeBox Recycling. Visit at http://www.communityrecycling.biz for more information and please join in as one of our People Recycling for People.