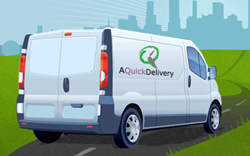 Atlanta, GA (PRWEB) January 21, 2014
AQuickDelivery, a recognized leader in same-day delivery, messenger and transportation services, announces wait time charges for same-day deliveries. The announcement comes in an effort to provide its' customers with the highest level of service, improve on-time delivery ratio, and increase sales growth. AQuickDelivery pursues to be the best choice in same-day courier solutions throughout Atlanta and Georgia areas.
The AQuickDelivery wait time charges involves its' drivers waiting at either the origin or destination for the completion of the delivery. The first ten minutes that the driver waits at the either point, there is no charge. After the first ten minutes, customers will be charged $.75 per minute, which is also retroacted to include the first ten minutes also. For straight truck wait time, the wait time policy charge is $.50 per minute.
The wait time policy allows its' customers versatility with their courier requests, especially in cases in which they have deadlines for their deliveries. The customer can set the ready time of their document early and elect to pay additional wait time charges, in the event the driver arrives to pick it up. Customers can also request the driver to wait at the delivery point, if the recipient has not arrived to accept or sign for the package.
AQuickDelivery understands it is important for its' customers to be given the option to have the driver to wait for various reasons to ensure proper delivery. Orders can be placed via phone or online. For all online orders, customers are recommended to notate any special requests relative to waiting at the origin and/or destination. For any questions, customers can contact the Atlanta Courier to discuss their same-day delivery needs. AQuickDelivery is also available 24/7 and strives to create optimal courier service solutions that result in a quality customer experience.
AQuickDelivery is a premier same-day courier offering transportation and distribution services. From small packages to palletized freight, AQuickDelivery delivers fast! As a leader in the courier service industry, their goal is to perform optimal courier logistic solutions and superior customer service every time. The courier provides same-day delivery successfully for over 1,500 clients, including Fortune 500 companies nationwide.