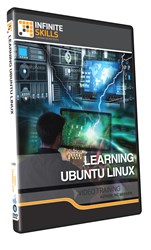 Learn Ubuntu Linux at your own pace.
(PRWEB) January 20, 2014
Software training firm Infinite Skills Inc. this week introduced its "Learning Ubuntu Linux Tutorial," an introductory course designed to teach new Linux users the basics of working with this command-line based, open-source, operating system.
Ubuntu is the most popular version of Linux currently in use. It uses the Unity desktop environment, and is composed of many software packages added on to the basic framework. Linux allows users access to open source components like LibreOffice, Firefox, Empathy, and more, and can also run proprietary programs such as Microsoft Office through the use of virtual machines like VirtualBox and VMWare Workstation.
Infinite Skills' Learning Ubuntu Linux Tutorial provides an overview of working with a Linux OS, explaining its powerful command-line capabilities, working with GUI-based software, and using Linux with languages like Python, Ruby, and the C programming language.
Learning Ubuntu Linux Tutorial Video - DVD
Course author Ric Messier is a computer security professional with decades of experience helping large global companies secure their data and software systems. He has been using Linux and its Unix predecessors for more than 30 years. In addition to running a network security consulting company, Messier currently teaches network security at the college level and SPIP compliance at the postgraduate level at Brandeis University.
Here, Messier begins by guiding students through the installation process, providing a thorough introduction to basic navigation, customization, and setup procedures.
From there, the course goes in-depth in using Ubuntu with chapters on file and system management, explaining how to manage permissions, share files, and work with special files, and manage packages, processes, and users.
After chapters devoted to networking and security and disk management, the course concludes with chapters explaining how to use the Linux kernel in programming and development. Here, Messier explains how to install and configure Apache, MySQL, and PHP, set up a database, and begin working with HTML, before closing with a look at scripting with Bash, Perl, Python, Ruby, and more.
"What programmers love about Linux is that you have a very powerful command line," Messier explains. "It really is the basis of a Linux OS, and it is designed to be very interactive and powerful with the kinds of things you can perform by chaining commands together."
"We'll look at its capabilities along with the GUI and various programs. Students will learn how to install and manage your software so that you can really create the OS to achieve the goals you have in mind for your computer system."
Free demo videos and a full list of course contents can be found on the Learning Ubuntu Linux training page of the Infinite Skills website:
http://www.infiniteskills.com/training/learning-ubuntu-linux.html
Infinite Skills offers its Learning Ubuntu Linux Tutorial either as a DVD or a direct download from the company website at a retail price of $49.95. All titles and formats are compatible with Mac and Windows operating systems. Shipping is available around the globe. Additionally, Infinite Skills tutorials are supported by project files which correspond to examples in the videos, allowing users to work alongside experienced instructors right on their computer or iPad.
About Infinite Skills Inc.
A leader in the field of software training, Infinite Skills designs its courses on a task-oriented model, teaching complex skills by providing hands-on examples and guiding users as they carry out essential functions. Infinite Skills offers a wide range of software titles available as DVDs, digital downloads, and in iPad editions. Infinite Skills now offers a subscription service, providing access to all its training content for a monthly fee, keeping with company's aim of delivering professional training to customers anywhere they want to learn.