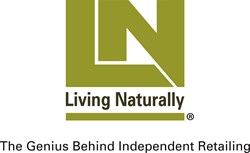 Par-level replenishment will soon be in the past; our retailers can now rely on leading-edge, predictive intelligence. -Dan Clarke, CEO of Living Naturally
Sarasota, FL (PRWEB) January 21, 2014
Living Naturally unveiled its new end-to-end Business Analytics solution at the National Retail Federation show in New York. The technology and algorithms used have been developed in collaboration with Intel® over the last year.
Living Naturally's Business Analytics system will use predictive intelligence to forecast key parameters that retailers and suppliers need to make informed decisions regarding inventory management, procurement and consumer marketing activities. The company utilized its own data sets and expertise, licensed this technology from Intel and adapted it to its marketplace, providing solutions for the natural products, specialty grocery and independent pharmacy industries.
The new solution provides meaningful recommendations to solve everyday challenges. There are many companies offering big data solutions that require an analyst or a statistician to interpret. The difference with the Living Naturally solution is that it removes the complexity of big data and distills it to its simplest form, making it actionable and for use at the critical point of decision making for retailers.
"This tool is designed to function with the ease and usability of a mobile app. We designed the user interface to be intuitive and logical, with a visual layout that was inspired by gaming," said Gordon Lear, vice president of research and development for Living Naturally. "Now that this technology is available, we're looking forward to applying it throughout our industry to solve real problems for our retailers."
Running on the Intel® Distribution for Apache Hadoop, the system draws upon 15+ years' worth of data, amounting to billions of dollars of transactions that Living Naturally has been collecting. Data feeds from search engines, social media and third-party census and weather sites are weaved in to formulate advanced Business Analytics algorithms.
The tool will notify retailers of trending products on social chatter and recommend optimal re-order quantities to help support projected sales demand, while minimizing out-of-stocks and shelf life expirations. By synthesizing data in this way, the solution will help retailers determine seasonality, promotional mix, product lifecycle and margin optimization.
"Intel is actively working to make innovative new technologies available to retailers and suppliers of all sizes," said Joe Jensen, general manager of the Intel Retail Solutions Division. "For businesses, it's vital to utilize key data to provide the right products at the right price, at the right place and time. With this solution, Living Naturally's customers will have the potential to save money and grow their businesses by making better use of big data."
This new solution is being used by a major grocery retailer and has helped enable significant efficiencies in their ordering, said Dan Clarke, CEO of Living Naturally.
"This initiative has the potential to revolutionize the industry, and we're pleased to bring this advanced technology that rivals that of multi-national corporations to our 3,000+ retail customers," Clarke said. "Par-level replenishment will soon be in the past; our retailers can now rely on leading-edge, predictive intelligence."
The Business Analytics solution is available through the Living Naturally marketplace or is licensable from Intel.
About Living Naturally:
Living Naturally is a leading provider of technology and marketing solutions for retailers and suppliers in the natural products, specialty grocery and independent pharmacy sectors. The company develops and markets a suite of online and mobile programs under the GeniusCentral brand, to enhance the productivity and marketing capabilities of retailers and suppliers. Since 1999, Living Naturally has gained more than 3,000 retail customers, 20,000 major industry brands and currently processes more than $5 billion in online commerce annually. Learn more at GeniusCentral.com.