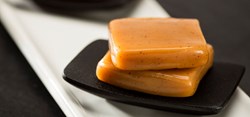 By reflecting the smell, taste and experience of that first sip of coffee, Espresso caramels ease the desire for something sweet and something familiar.
Portsmouth, NH (PRWEB) January 22, 2014
After two years perfecting four classic flavors, Tahana Confections LLC is expanding its product offerings by following a well-established trend in daily consumption – coffee. Tahana Confections' Espresso Caramel was introduced on January 5, 2014 and is now available as a standard flavor in the Tahana caramel portfolio.
"Tahana Confections' flavors are driven by customer demand; the standard flavors each maintain a strong fan base and it was a natural progression to expand the portfolio to Espresso. Tahana's caramels are sold in many coffee shops and having the option for a coffee-flavored caramel rounds out the choices in the other specialty food and gift stores that carry our products," says Amanda Telford, owner of Tahana Confections. By adding Espresso to the standard caramel flavors of Vanilla Bean, Salted, Ganache with Sea Salt, Coconut and a rotating Seasonal Spice flavor, Espresso continues Tahana's effort to create a candy that is both recognizable in taste and extraordinary in experience.
The addition responds to the popularity of one the most celebrated beverages and transforms it for those looking for a little sweet in their day. "By using local heavy and light cream and of course butter, the caramels balance the strength of the Espresso flavor with the velvety experience of the foam top which is mirrored in the mouth feel of the caramels," Telford stated.
Espresso caramels are available for sale as a single serve item (wholesale only), in 1/4lb and 1/2lb bags and as part of the Variety Pack. Customers interested in purchasing Espresso caramels directly can visit http://www.tahanaconfections.com and retail stores interested in adding them to their stores can call 603-498-6246.
About Tahana Confections
Tahana Confections LLC, an artisanal confectioner of caramel products, handcrafts caramels and caramel sauce for retail shops nationwide and direct to the consumer via their online store.
Tahana Confections focuses exclusively on pure caramel candies and sauces. They offer five standard flavors and a rotating quarterly spice flavor in their candies and two flavors of caramel sauce. Tahana serves specialty food, gift and independent markets nationwide, providing an affordable luxury alternative to chocolates and other sweets.