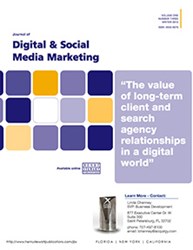 (PRWEB) January 22, 2014
Marketers using SEM agencies often have a short-term mindset because they have been disappointed by one or more past relationships. As a result, they are gun-shy about taking a long-term approach, which has numerous value. In this article, author Irv Brechner presents the case that brands would be wise to look for both a short- and long-term strategic approach from agencies they are evaluating, so that they can understand strategic thought and approach over time. The piece includes:
•Pros and Cons of Long-Term Search Agency Relationships
•Seven Top-Level Benefits of Long-Term Client-Agency Relationships
oCreative development and messaging
oMetrics analytics
oNew products/services and line extensions
oCustomization
oPeople changes
oData sharing
oTesting
•Ten Tactical Examples With Proven Results
oMoving from advertising metrics to brand metrics
oConsistency as new divisions added
oDuplicate keyword bidding
oRelationship with Google and other search engines
oKnowledge of what works
oUnderstanding the inner workings of companies with multiple divisions
oWhat it really takes to ramp up a new account at an agency
oGoogle rewards long-running search campaigns
oAgency experience with other long-term clients
oCoordination of search campaigns with other advertising tactics
•Short-Term Agency Relationships May Make Sense for Some Brands
The article is available for marketers by email from Linda Chaney, SVP Business Development, acquirgy: lchaney(at)acquirgy(dot)com.
"With hundreds of search agencies that look and smell the same but with widely varying core competencies and experience managing large accounts, the need to properly evaluate a potential new agency partner is critical," said author Irv Brechner, EVP of Corporate Communications at acquirgy. "We know, without a doubt, that the value of initiatives that take time to develop and implement are very exciting to the brands that have the patience to create a partnership with their SEM agency."
About The Journal of Digital & Social Media Marketing
Journal of Digital & Social Media Marketing is the major new peer-reviewed journal written by and for marketing and brand management professionals using digital channels, published by Henry Stewart Publications.
Guided by an Editorial Board of digital and social media marketing experts, each quarterly 100-page issue - published in print and online - provides in-depth, practical articles by leading professionals on innovative strategies, techniques and trends, plus the latest research and detailed analysis of how leading brands are using digital and social media marketing around the world. It does not publish advertising and all content is peer-reviewed to ensure that it is of direct, practical relevance to those working in the field. Learn more at: http://www.henrystewartpublications.com/jdsm.
About Acquirgy
Acquirgy (http://www.acquirgy.com) is an Acquisition Marketing Agency developing and executing accountable marketing programs driven by immediate and measurable response metrics across all digital and traditional platforms. Proprietary tracking systems integrate all transactional media, logistic and response data from all platforms to optimize client profitability. Acquirgy's CustomerAcquisition IntelCenter (http://www.acquirgy.com/intel) offers 100+ papers, briefs, ebooks and more on proven best-practices tactics and strategies.