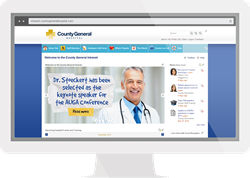 Intranet Connections operates at the center of over 160 hospitals and health facilities.
Vancouver, BC (PRWEB) January 21, 2014
Intranet Connections has introduced a brand new out-of-the-box intranet solution tailored specifically to the needs of those within the healthcare industry. This addition was released in conjunction with their "Mega Release" which includes additional product features such as Mega Menus, Interactive Tutorial Builder, Wiki Pages and extensive business workflow.
Entering its fifteenth year as a leading intranet software provider, Intranet Connections operates at the center of over 160 hospitals and health facilities, including 14 Mayo Clinic locations.
Leveraging what current healthcare clients find successful on their intranets, they created an out-of-the-box experience that gives healthcare organizations and hospitals a leg up in intranet implementation. Their newest offering includes the following healthcare applications:

Employee Self-Serve
Payroll Timesheets
HR Benefits Summary
Vacation Request Form
Fundraising Activities Site
Tests for Staff in Admitting
Hospital Visiting Hours
Cafeteria Meal Order Form
Wards: Nurses Schedule, Life On the Ward, Staff Training, Ward Initiatives
"Our new Healthcare Intranet will provide those in healthcare with access to the right tools they need to immediately improve communication and enhance staff education and training," explains Steven MacDonald, Intranet Connections' CEO. "We have incorporated best practices and feedback from our many healthcare customers to create a product that directly addresses the intranet needs of hospitals, hospices, clinics and facilities catering to curative, preventative, rehabilitative and palliative care."
Cari Jones, IT Support Specialist at Pathways Hospice and a valued Intranet Connections' customer, discusses the benefits of scalability that the Intranet Connections software offers their hospice. "Intranet Connections has been the perfect intranet solution for Pathways. We not only educate our staff through our intranet, but also keep them connected while they are mobile interfacing with patients and caretakers. As a happy customer of Intranet Connections for over 5 years, we have experienced how their robust intranet can flex and grow with our organization's needs."
About Intranet Connections: Business Intranet Software
Intranet Connections is a leading provider of simple and automated, business intranet software. Over 1,600 businesses worldwide have chosen Intranet Connections because of its smart delegation, automation, and total ease of use for IT administrators yielding time savings, cost savings and resource savings right out of the box.
Visit the Intranet Connections website (http://www.intranetconnections.com) to see our intranet software or contact our Sales Team for more information or to request a demo or 21 day intranet software trial.