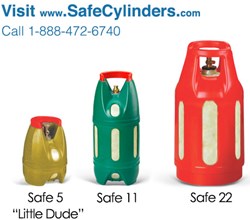 I'm very excited to bring to market composite propane tanks at an affordable price!
Sarasota, Florida (PRWEB) January 23, 2014
Safe Cylinders, Inc. announced today they are the exclusive distributor in North America, Caribbean and Mexico of LiteSafe Cylinders manufactured in India by Time Technoplast, Ltd. The LiteSafe product will be marketed as Safe Composite Cylinders in the above markets.
Time Technoplast Ltd. (Time Tech) is a leading polymer product, multinational company with operations in India, UAE, Bahrain, Thailand, Malaysia, China, Poland, Romania, Taiwan, South Korea, Vietnam, and Indonesia.
-----------------------------------------
VIDEO - Safe Composite Cylinders - VIDEO
-----------------------------------------
Phil Tyson, CEO, Safe Cylinders, Inc. said, "I'm very excited to bring to market composite propane tanks at an affordable price!"
Safe LP Cylinders offer a number of benefits over steel tanks such as: explosion-proof design, light weight, viewable fuel levels, non corrosive, stackable, easy-carry handles, tip-resistant base for safe transport and manufactured under ISO 1111.9 type 3 International standards.
Safe Cylinders are available in 3 popular sizes: 5 lbs, 11 lbs. and 22 lbs. They can be ordered in virtually any color desired and RFID chipping is available. Safe Cylinders are used for grilling, tailgating, hot air balloons, camping, RV's, cooking, hot water and forklift applications to name a few.
Certifications
Before being put into large-scale production, composite cylinders are repeatedly and comprehensively tested in-house and are certified in accordance with international regulations and standards by (Third Party) TÜV.
LiteSafe Cylinders are manufactured under strict guidelines of
EN12245 : 2002EN14427 : 2004ISO 11119-3TPED Dir.2010/35/EU & ADR/RID 2012
Rigorous Testing
Hydraulic (proof pressure) test
30-bar cylinder burst test
Above 150 bar pressure cycle test 12,000 cycles
Accelerated Aging test (sunlight, cold, heat, salt water)
Torque test
Drop test: 5 positions
Bullet test
Permeability test
Exposure to elevated temperature: 70oC
Extreme temperature cycle test: - 60oC to 70oC
Fire test: No Explosion
Safe Cylinders are currently in process for US DOT approval under the newest permit program utilizing ISO standards. ISO standards are accepted by a majority of countries as the premier trusted specification standard bearer. We anticipate DOT approval first quarter 2014 with Safe LP Cylinders available for delivery in the second quarter of 2014.
Technology
Time Technoplast, Ltd. utilizes the latest design and manufacturing technologies developed in the aerospace industries. Modern manufacturing process uses composite fiber helically woven and mixed with proprietary resins around a PE (polyethylene) single-piece inner liner assuring maximum integrity of each Safe LP Cylinder.
The outer shell is a heavy-duty HDPE designed to withstand rough handling, environmental exposures while providing a pleasing appearance, lightweight and easy-to-carry handles.
Marketplace
Distribution will be available via domestic and international exchange programs and retailers. To learn more about Safe Cylinders, visit http://www.safecylinders.com website, contact sales(at)safecylinders(dot)com or give The Coconut Group a call and ask about Safe LP Cylinders 941-404-6820.