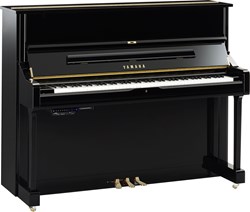 "The U1TA is an entirely new product concept," said Jim Levesque, marketing manager, Hybrid Pianos, Yamaha Corporation of America. "It's amazing to hear the sound of our CFX concert grand coming from a 48" upright instrument."
Anaheim (PRWEB) February 03, 2014
An acoustic piano with a volume control, or a digital piano with strings? Yamaha recently introduced its U1TA PE Professional Upright Piano at the 2014 NAMM Show, the first instrument of its kind to reproduce ALL sounds (in addition to the acoustic piano) from the soundboard rather than from a traditional speaker.
This product breakthrough is made possible through TransAcoustic™ technology, the name Yamaha has bestowed upon its proprietary innovation that will power a new breed of piano. At its most basic level, TransAcoustic technology turns the entire soundboard of the piano into one big "loudspeaker," which means that ANY sound can be delivered through this naturally resonant piano component. The U1TA has 19 additional instrument sounds onboard--various pianos, electric pianos, pipe organs, harpsichords and others—to vastly expand the creative possibilities in a variety of musical applications. But, unlike other digital instruments where sound emanates from fixed points (directional speakers), this piano's novel use of the entire soundboard makes the resultant sound envelop the user as never before.
The new U1TA PE hybrid instrument is first and foremost a fine acoustic upright piano, with real strings. Its superb upright action, featured in Yamaha's higher-end upright pianos, is inspired by the legacy of the immensely popular U1 acoustic upright piano, which has maintained its reputation for being a durable, reliable and professional upright for half a century. Yamaha has built more U1 pianos than the combined models produced by most piano manufacturers.
But the U1TA goes where no piano has gone before. It transmits sound energy through the piano's acoustic soundboard using a soundboard transducer. This creates an omnipresent sound never before heard from an acoustic instrument, with all the benefits of Yamaha's popular Silent Piano™ such as a mechanical sound muting system and headphone connectivity.
The new technology adds a unique method of playback and performance, enabling users to perform with a digital sound generated through the piano's soundboard with full volume control. They can also combine the acoustic piano sound with any number of digital sounds to create a lush multi-sound layer.
"The U1TA is an entirely new product concept," said Jim Levesque, marketing manager, Hybrid Pianos, Yamaha Corporation of America. "There is nothing else like it on the market, and it's amazing to hear the sound of our world-renowned nine-foot concert grand—the CFX—coming from this 48" upright instrument."
Yamaha's latest development stretches the imagination and opens up a whole new world of possibilities for piano performance, including:
● Digital sounds with real acoustic string resonance and harmonics;
● Variable sound volume control to play digital sounds at low or high volumes;
● Yamaha Silent System integrated to keep the hammers from striking the strings, so that the instrument can be enjoyed silently through headphones;
● Headphone connectivity with CFX Binaural sampling;
● Ability to layer digital sounds with acoustic piano sound.
Availability
The Yamaha U1TA PE Professional Upright Piano will ship in April. For more information, visit the Yamaha booth at the 2014 NAMM Show in the Anaheim Marriott Hotel, Marquis Ballroom, running Jan. 23-26, or visit http://4wrd.it/YAMAHA_KEYBOARD.
-END-
About Yamaha
Yamaha Corporation of America (YCA) is one of the largest subsidiaries of Yamaha Corporation, Japan and offers a full line of award-winning musical instruments, sound reinforcement and home entertainment products to the U.S. market. Products include: Yamaha acoustic, digital and hybrid pianos, portable keyboards, guitars, acoustic and electronic drums, band and orchestral instruments, marching percussion products, synthesizers, professional digital and analog audio equipment, Steinberg recording products and Nexo commercial audio products, as well as AV receivers, amplifiers, Blu-ray/CD players, iPod docking systems, earphones, headphones, home-theater-in-a-box systems, sound bars and its exclusive line of Digital Sound Projectors. YCA markets innovative, finely crafted technology and entertainment products and musical instruments targeted to the hobbyist, education, worship, professional music, installation and consumer markets.