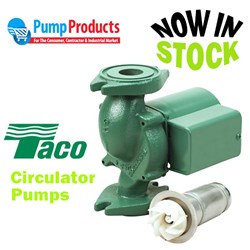 We feel that by increasing our Taco pumps and parts stock we can substantially reduce down time for many of our customers.
Wallington, NJ (PRWEB) January 24, 2014
Pump Products has substantially increased its inventory of Taco pumps and parts for residential and commercial water and heat transfer applications to meet customer demand in 2014. Product configurations include Water Lubricated Circulators, 3-Piece Circulators, In-Line Circulators, Vertical In-Line Pumps, and Vertical Multi-Stage Pumps in cast iron, bronze and stainless steel.
"Taco pumps are among the top three selling pump brands in the Northeast," says Product Expert Fred Hettinger. "Quiet operation, energy efficiency, compact design, and reliability make Taco a popular choice in residential hydronic heating systems, water recirculation, and commercial applications such as cooling towers, dry cleaning plants and irrigation. We feel that by increasing our Taco pumps and parts stock we can substantially reduce down time for many of our customers."
Popular models the New Jersey-based distributor has in stock include every model in Taco's "00" Cartridge Circulator Series including Taco's self-regulating Variable Speed Delta T (VDT) pumps known for energy efficiency and quiet operation, and the complete line of 1600 series In-Line pumps – 15 models ranging in size from 1 ½" x 1 ½" to 2" x 2". As a whole these pumps range in performance capacity from 10 GPM to 235 GPM with head capacities up to 68 feet. With the inclusion of corresponding parts Pump Products has positioned itself as a one-stop shop for Taco products on demand.
"The Taco circulator pumps we're stocking can be used in radiant heating, hot water recirculation, water boosting and other common applications," says Hettinger. "With so many items in stock we can usually ship the same day. In addition, we offer free shipping on all qualified orders over $299. Combined with our Lowest Price Guarantee, that's a deal that's hard to beat."
Pump Products has elected to carry an extensive Taco inventory in the wake of high demand last winter that resulted in 4-6 week lead times. Long waiting periods are common among major pump manufacturers whose supply often lags behind demand. As a supplier with extensive warehouse space located in a region of peak demand, Pump Products implemented inventory management improvements that made taking on the additional stock feasible.
"We're proud to be stocking more Taco pumps and Taco pump parts than any other distributor in the Northeast and in most cases even more than Taco manufacturer reps," says General Manager Ed Drejman. "And we're thrilled to be offering them at the shortest lead-time in the area. Equally important is that our expert staff is able to provide Taco sizing and selection support."
Pump Products offers customers all the relevant information necessary to make informed product choices on an extensive inventory of Taco pumps and parts. In addition to detailed specifications and multiple manuals and brochures for most products, the on-line retailer provides shoppers with original product images, expert reviews and a library of buyers guides. A staff of manufacturer-certified product experts trained to provide customers with technical support rounds out Pump Products' extensive Taco pump product support offerings.
PUMP PRODUCTS is an e-commerce retailer offering an extensive selection of pumps and repair parts, electric motors and generators by leading manufacturers including Armstrong, Bell & Gossett, Taco, Grundfos, Berkeley, Hydromatic, Zoeller, Little Giant, WEG and Generac to residential, commercial and industrial customers.