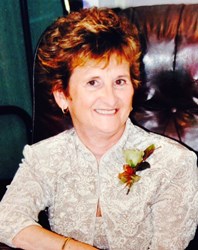 I feel good about myself… PRMA gave me back what cancer stole from me.
San Antonio, TX (PRWEB) February 04, 2014
After suffering severe burns to her chest nearly 3 decades ago, Linda Frost didn't think things could get any worse until she heard those four dreaded words – you've got breast cancer.
Frost, who spent nearly 2 months in the burn unit in Lincoln Nebraska's St. Elizabeth Hospital, was lucky to be alive after a fire in her backyard burned out of control, catching her clothing on fire. Frost suffered 2nd and 3rd degree burns to her chest and hands as she tried to tear off her melting clothes.
"It was a very challenging time in my life," said Frost. "I had to go through many surgeries to debride the dead skin and then nearly a year of physical therapy but I was determined to be able to do all the things the doctors said I would probably never do again."
And she did.
Frost fully recovered from her burns, but in 2012 she received more bad news. She had breast cancer.
Since she was unable to have radiation due to the burns on her chest, she had to undergo bilateral mastectomies. Her plan was to have implant reconstruction, but that too failed because of her previous burn scars.
After losing all hope from her physicians in Nebraska, Frost began to do some research and came across PRMA Center for Advanced Breast Reconstruction in San Antonio, Texas.
"I found PRMA on the internet and was immediately impressed with the skill of the surgeons," said Frost. "I ended up choosing Dr. Chrysopoulo because of his experience with burn victims at Shriner's Hospital and words cannot describe how he has changed my life."
Frost underwent bilateral DIEP flap breast reconstruction, a procedure that uses the skin and fat from the patient's lower abdomen to reconstruct the breasts. Unlike the TRAM flap which also uses the lower abdominal tissue, the DIEP flap preserves all the patient's abdominal muscles.
"The burns on Linda's chest made it impossible for her to have a successful reconstruction with implants since the damaged skin couldn't stretch," said Dr. Minas Chrysopoulo of PRMA. "The DIEP flap was a much better option. It provided a natural breast reconstruction and also allowed us to replace the burn contractures on her chest with normal, soft tissue."
Frost says that she never imagined she would feel normal again.
"I was beginning to lose hope for the longest time, but I can say now that the results are better than I expected," said Frost. "I feel good about myself and I'd like to say that PRMA gave me back what cancer stole from me."