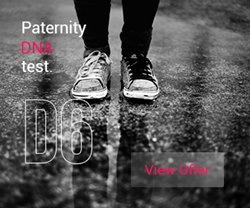 One great place, 6 incredible DNA tests.
(PRWEB) January 23, 2014
Find information about paternity testing from people with personal experience. D6 is introducing a new forum, which discusses paternity testing. Anyone can begin a discussion and have their questions answered. This forum is first of its kind within the DNA testing field and the subjects related to it.
Anyone can use this service without any subscription or signups. Users can connect with an existing Twitter, Google, or Facebook account. Visitors can ask questions, share personal stories, or join in on any other discussions that are already open. Sharing a story is something that takes courage and it can inspire others to jump in and do the same.
This is not a forum for scientists, it is more for everyday individuals, using simple terms and a language everyone understands. People that have a story about DNA testing can share their story or start a discussion at d-6.co/reviews. Personal testimonial about paternity testing is something that our users are constantly asking for, and many visitors to the site have nowhere else to turn. Most people can't just ask friends or family where to go for paternity testing and how it's done; it's not as common as that, plus it is a very sensitive issue and is not talked in an open forum.
With their visitors' help, D6 would like to change that. It is more comfortable to be talking about this with someone in a similar situation and it's even better if they are total strangers. The main reason for this forum is to share the information and give everyone a resource that is not available today.
D6 collaborates with the best laboratories worldwide and can direct users to the right ones. D6 partners with so many labs because each is equipped to do certain testing, and most labs can't do non-invasive prenatal testing. Most do it after the baby is born, while other labs are best for sibling DNA testing, and the list goes on. For this reason D6 has collaborated with the best labs in the world.
Individuals who are interested in learning more, can visit their site to find out about what they offer. At http://www.d-6.co, visitors to the D6 website can also ask a question on the contact form to get more information about the DNA test that is best for them.