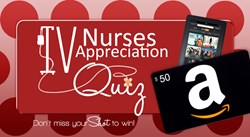 Springdale, Arkansas (PRWEB) January 22, 2014
January 25 is IV Nurses Day and to celebrate, The Right Solutions (TRS) is hosting a contest on their Facebook fan page. TRS will be giving away a Kindle Fire HD and a $50 gift card from Amazon to one lucky winner.
As a nurse owned company, The Right Solutions knows that nurses are often under appreciated. TRS wants to do their part to help change this fact by creating fun games and giving away cool prizes on special days and holidays dedicated to nurses. To kick things off, they are celebrating "IV Nurses" day on January 25 with their "IV Nurses Appreciation" quiz and sweepstakes on their Facebook fan page.
Who can Participate: Anyone with a Facebook account can enter.
How to Enter: Log into Facebook, go to TRS' Facebook fan page, take the quiz and you will be entered to win. One lucky winner will be chosen at random to receive the Kindle Fire HD and Amazon gift card. The contest starts January 21, 2014 and ends January 28, 2014. The winner will be announced on Facebook January 29, 2014.
About The Right Solutions:
The Right Solutions is a medical staffing company supplying RNs, LPNs and Allied Professionals to medical facilities throughout the US in the state, public and private sectors. TRS' mission is to Comfort and Restore Lives throughout the Nation, from large teaching hospitals to remote clinics and everything in between.
The Right Solutions provides quality travel nurses to medical facilities that require short term staffing to meet their employment shortage needs. TRS has travel nurses eligible to work throughout the US in a variety of specialties and environments. The company was one of the first healthcare agencies to go through The Joint Commission accreditation and receive The Joint Commission certification. TRS is nurse owned and located in Tontitown, Arkansas. For more information, visit: http://www.therightsolutions.com or call 888-987-8233.