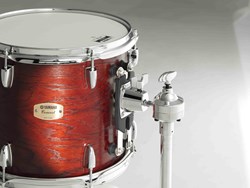 Using the updated Oak drum shells has proven to make these concert toms more expressive and responsive. - Troy Wollwage, marketing manager, Percussion Instruments, Yamaha Corporation of America
Buena Park, CA (PRWEB) February 11, 2014
Yamaha recently featured the 9000 Series Concert Toms at the 2014 NAMM Show, which adds the pleasing characteristics of Oak to this notable percussion line.
Oak symbolizes strength: physically dense, heavy and durable. Musically, Oak is known for great attack and sustain, making it a sought-after wood for drummers of all genres. The new drums feature the same updated 6-ply Oak shells found on Yamaha's Live Custom drum kits. Players will notice an increased sensitivity and wider dynamic response, while directors and arrangers will notice a more punchy sound. With the addition of the new YESSIII mounting system, they will also notice more stability, increased sustain, open resonance and less absorption.
The new series is ideal for higher-level concert band and percussion ensembles, professional music ensembles, as well as pit and field percussionists.
"Using the updated Oak drum shells has proven to make these concert toms more expressive and responsive," said Troy Wollwage, marketing manager, Percussion Instruments, Yamaha Corporation of America. "With the new YESSIII mounting system used on with Yamaha drum sets, percussionists will not only notice a great improvement in tone, but will also appreciate the fact that it offers easy set-up options without sacrificing needed stability. Since these, and our other new percussion products, are being built in our newest facility, those making purchase decisions can be assured that they are investing in a consistent, quality product and the dedication behind the Yamaha name."
Pricing and Availability
The Yamaha 9000 Series Concert Toms (models CT-9006/9010/9012/9013/9014/9015/9016 MSRP: $416 to $794) are shipping.
For more information about Concert Snare Drums, visit the Yamaha Booth at the 2014 NAMM Show in the Anaheim Marriott Hotel, Marquis Ballroom, running January 23-26, or visit http://4wrd.it/9000concerttoms.
About Yamaha
Yamaha Corporation of America (YCA) is one of the largest subsidiaries of Yamaha Corporation, Japan and offers a full line of award-winning musical instruments, sound reinforcement and home entertainment products to the U.S. market. Products include: Yamaha acoustic, digital and hybrid pianos, portable keyboards, guitars, acoustic and electronic drums, band and orchestral instruments, marching percussion products, synthesizers, professional digital and analog audio equipment, Steinberg recording products and Nexo commercial audio products, as well as AV receivers, amplifiers, Blu-ray/CD players, iPod docking systems, home-theater-in-a-box systems, earphones, headphones, sound bars, and its exclusive line of Digital Sound Projectors. YCA markets innovative, finely crafted technology and entertainment products and musical instruments targeted to the hobbyist, education, worship, professional music, installation and consumer markets.