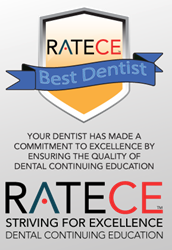 From a marketing standpoint, aggressive advertising may not be the preferred method for reaching the senior demographic.
Studio City, CA (PRWEB) January 21, 2014
American 65 and older comprise the largest segment of the population and, according to Census Bureau projections, the number is expected to more than double in coming decades.Yet, dental marketing continues to be aimed at a more youth-oriented population, not only in design but also in the accepted manner of presentation. RateCE, LCC offers marketing solutions, based on one's continuing education experience, for dental offices that target seniors and others who do not respond to conventional advertising to practitioners who become members and rate and review dental continuing education courses at RateCE.com. 
"From a marketing standpoint, aggressive advertising may not be the preferred method for reaching the senior demographic," said Laurence Barsh, DMD Founder and CEO of RateCE, LLC. "This generation largely spent adulthood, during an era when professional advertising was prohibited. Because of this, many regard those dentists who advertise in newspapers, television, magazines and on billboards in an unfavorable light."
RateCE, LLC offers a marketing campaign based on a dentist's continuing education experience that appeals to the "word-of-mouth" generation by providing in-office marketing materials such as tent cards, brochures and other information that attests to one's experience with dental continuing education. In addition, RateCE.com features those dentists, along with contact information and their credentials relating to course attendance, who make the effort to review courses they attend. Both in-office and web credentialing enhance the ethos of the dentist to an older demographic in a way that they understand and approve.
About Laurence Barsh, DMD
Laurence Barsh, DMD is a retired dentist who founded Snoring Isn't Sexy, a directory for dentists providing oral appliance therapy for snoring and sleep apnea. Dr. Barsh was Assistant Clinical Professor of Operative Dentistry and Assistant Clinical Professor of Oral Diagnosis and Radiology at Harvard School of Dental Medicine. He has published numerous scientific articles and lectured in the United States and abroad on various subjects in dentistry and authored a text entitled Dental Treatment Planning for the Adult Patient that was incorporated into the curriculum at a number of dental schools.
About RateCE, LLC
RateCE, LLC is a rating and review program serving the needs of dental healthcare personnel who are mandated by state law to attend continuing education courses to maintain licensure. RateCE.com offers the most comprehensive web site online for ratings and reviews of dental continuing education. RateCE, LLC is dedicated to improving the quality of dental continuing education through unbiased reviews written only by those who are attending the course. RateCE's goals, simply stated, are to provide recognition to sponsors who provide excellent courses and to ensure that attendees get the absolute best continuing education possible for their investment in time and dollars. RateCE.com is optimized for use on smartphones, tablets, laptops and desktop computers.
To learn more visit http://www.RateCE.com or call 855-5RATECE for more information.