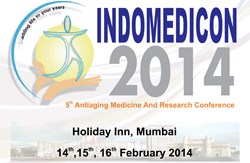 American Medical Association recognizes Obesity as a disease .
Mumbai ,Maharashtra ,India (PRWEB) January 21, 2014
"In this current era of obesity epidemic, the whole world is looking for obesity management solutions, from life style modifications to dietetics to medical and surgical interventions," says Dr. Chaturvedi, Co Founder of the World Antiaging Network.
The journey of the medical management of Obesity has travelled from appetite suppressants like Sibutramine, Phentermine, and Amphetamines to Lipase inhibitors like Orlistat. Currently, antiepileptics like Topiramate have found their place in obesity management. Bariatric surgery, though in its evolving phase, is also a ray of hope for highly obese individuals.
With many trials and errors, along with randomized control studies (or Observational/ Comparative studies), medical fraternities remain highly vigilant towards finding the solution of this epidemic. Incretins like Liraglutide and pregnancy hormone like Gonadotropin have shown significant hopes, at least in observational studies.
The pregnancy hormone has been hypothesized to drive the metabolic center in the hypothalamus and command the body. It sends signals to consume the stored body fat and use it as the primary source of energy when in a state of calorie deficit. This happens through a complex signaling network and is an area of extensive research today. The gonadotropin hormone has an inherent property of TSH and LH. This might be an underlying mechanism to explain it's actions on the metabolic pathway, as well as in weight management.
The obesity epidemic is going to be one of the highlights to discuss in depth, and to find solutions for, in the forthcoming INDOMEDICON ­ 2014: 5th Antiaging Medicine And Research Conference, which is to be held on 14th, 15th and 16th of February 2014 at Holiday Inn, Mumbai.