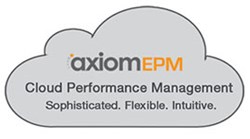 'We are excited to take Cloud Performance Management to the next level on the Windows Azure infrastructure, giving clients more customization and flexibility in today's dynamic business environment,' said Peri Pierone, CEO, Axiom EPM.
Portland, OR (PRWEB) January 22, 2014
Axiom EPM, a leading provider of financial planning and performance management software for enterprises, today announced that it has migrated its cloud-based performance management solution to the highly robust Microsoft® Windows Azure Infrastructure. Axiom's customers will now have access to expanded world-wide deployments, accelerated implementations, and enhanced security and performance.
In addition to the standard features and benefits of Axiom EPM's platform, this re-architected cloud-based service will enable customers to build a more customized, intuitive, flexible EPM platform to fit their needs. The cloud-based service is multi-tenant, DoD-grade secure and delivers a cloud performance management experience that leverages the power of the Windows Azure infrastructure to provide a true enterprise service that can be used within a browser or directly in a Microsoft® Excel environment.
Enhanced features of the EPM cloud offering include:

a geographically distributed and scalable service, allowing customers to determine their preferred vendor-managed upgrade schedule
extraordinarily high up-time for worldwide deployment
direct access to Axiom EPM's industry leading support team
a fully finance-owned solution, with the option of IT involvement to liberate customers from the constraints of overly-technical systems
"Axiom EPM's Cloud Service has been extremely successful since it was deployed three years ago, as we are seeing increased demand for performance optimized solutions with a low IT footprint and the fast ROI enabled by subscription-based pricing," said Peri Pierone, CEO, Axiom EPM. "We've built a great reputation for bringing the latest and greatest technology to our customers, and we are excited to take it to the next level by providing Windows Azure infrastructure to give clients more customization and flexibility in today's dynamic business environment."
Axiom EPM's highly scalable solutions address the complicated finance needs of multi-entity organizations. The finance-friendly Excel® interface is easy to use, and provides finance executives with the tools they need to accurately measure key budgeting, cost and profitability analytics. Its applications promote end-user adoption as well as actionable participation across business processes. And unlike the majority of cloud offerings in the market, the Axiom EPM service is multi-tenant, but also enables individual enterprise customers to determine their preferred vendor-managed upgrade schedule - you choose when the updates will be applied based on your schedule and specific needs. As a result, Axiom EPM delivers sophisticated, flexible and intuitive cloud performance management solutions that are unmatched in the industry.
About Axiom EPM
Founded by industry leaders with over two decades of experience in enterprise planning and reporting, Axiom EPM provides sophisticated, flexible performance management solutions that empower finance professionals to analyze results, model the future and optimize organizational decision making. Solutions for budgeting & forecasting, reporting & analytics, strategy management, consolidations, capital planning, profitability & cost management are delivered on a single unified platform. Axiom EPM embraces and extends familiar Microsoft Excel® functionality, allowing finance professionals to manage data in a familiar environment – while providing unmatched modeling flexibility and enterprise performance.