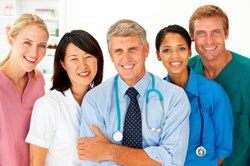 According to the U.S. Bureau of Labor Statistics, employment of physicians will rise 18% by the year 2022.
St. Louis, MO (PRWEB) January 30, 2014
According to the U.S. Bureau of Labor Statistics, employment of physicians will rise 18% by the year 2022. Utilizing the assistance of a physician recruiting firm such as Enterprise Medical Services can help a physician narrow down the job opportunities to those that will best fit their needs.
Here are some of the major factors physicians should take into account when evaluating a physician job opportunity.
One important factor to consider is the community where the opportunity is located. When considering locations, candidates should evaluate the communities based on what factors are most important to the rest of the family. These considerations may include evaluation of the school systems, housing availability, property taxes, and more.
Considering the following important questions will help ensure a successful and long term fit for the physician and their family.
1) Does the candidate need to or want to live close to family members or friends?
2) Does the candidate travel frequently? Does the candidate need to be close to an airport or public transportation station?
3) Does the candidate prefer a rural or urban practice setting and living situation?
4) Does the candidate prefer to work in a small clinic or large practice setting (such as a hospital)?
Corporate culture can often be overlooked when a physician selects a position. Just like in other professions, physicians spend a lot of time with other medical professionals in their clinic or organization. Being able to have positive daily interactions with the rest of the team is an important point to consider. Finding a solid group of physicians who share the same professional philosophies can go a long way towards finding the right position to consider for long term tenure. Candidates may consider reaching out to other physicians who are working in the clinics or the organizations that are being considered. Physicians and other medical professionals working at the clinic may be able to provide helpful insights.
Employee turnover is a less obvious metric to evaluate a position by. If there are new doctors being hired consistently then it is worth looking into. There may be other undesirable conditions in play behind the scenes or it could just be due to continued population growth and high patient demand.
The professional reputation of the practice is another aspect that should be taken into consideration. Are the physicians who work at this practice highly regarded by the rest of the medical community? Is the practice considered among community members to have high standards of practice?
The salary offered is also a factor when candidates are evaluating physician jobs. Candidates should take the time to find a reasonable salary, but salary should not be the most important factor to physician candidates. While a high salary may at first be appealing, if the community and medical organization is not a good fit for a candidate and a candidate's family the position will not be a good fit.
Keeping in mind all of these factors will help new physicians make a good judgment when evaluating physician job offers going forward. A professional physician recruiter can help physician candidates navigate the sometimes tricky world of employment.
About Enterprise Medical Services:
Since 1990, Enterprise Medical Services, a leading physician, executive and advanced practice provider recruiting and consulting firm, has been connecting the most progressive hospitals, clinics and medical groups with the most qualified career-minded candidates. Enterprise Medical Services has a strong team who has industry-leading knowledge in physician recruiting. For more information on Enterprise Medical Services, please visit http://www.EnterpriseMed.com.