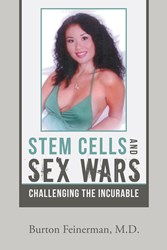 TAMPA, Fla. (PRWEB) January 22, 2014
Society's continual, obsessive search for perpetual youth has lead many on a tumultuous path of medical mayhem from shots to creams and a variety of procedures in between.
A leader in modern medicine, Dr. Burton Feinerman has always been at the forefront of new and life changing procedures in the healthcare community. Feinerman's experience includes his time as a key research associate at the Papanicolau Cancer Research Institute in Miami.
His career took a glamorous turn when he became a concierge physician to the stars at his office in Maui, Hawaii. He has treated a variety of high-profile clientele including celebrities Eddie Murphy, Larry David, Pink, Brittney Spears, Nick Nolte, Christian Slater, Arnold Schwarzenegger and Oprah, who once thanked him with an autographed magazine for "the shot in the tush."
Staying true to his mission to find relief for those afflicted with incurable diseases, Feinerman soon focused his efforts on the innovative and unfamiliar world of cell regeneration and gene therapy. As one of the original physician scientists to create stem cell protocols for incurable diseases, Feinerman now runs his clinic in Tampa, Fla. where he treats patients with conditions such as Alzheimer's, ALS, Autism, brain damage, Cerebral Palsy, Multiple Sclerosis, Spinal Cord Injury, Parkinsonism, Heart Disease, COPD, diabetes, Chronic Kidney Disease, Pulmonary Fibrosis, Tay Sachs, Sandhoff Disease, Stargardt Disease, Huntington Disease, Scleroderma, Lupus, Rheumatoid Arthritis, Crohn's Disease, cancer of all types, Macular Degeneration and Retinitis Pigmentosa.
"The emerging developments in stem cell therapy, gene therapy, nanotechnology and tissue engineering offer new hope to millions of patients," said Feinerman.
"Stem Cells and Sex Wars "
By: Dr. Burton Feinerman
ISBN: 978-1481774789
Available at Amazon, Barnes and Noble and Authorhouse online bookstores.
About the authors
A graduate of New York Medical College, Dr. Burton Feinerman also received extensive postgraduate training from Long Island College Hospital and the Mayo Clinic. He served as chief medicine for the U.S. Army, as part of the 98th General Hospital in Germany as well as chairman of medicine at Miami General Hospital, Opa-Locka Hospital, N. Miami General Hospital and chairman of cancer technologies Kids Medical Centers of America. Active in many industry organizations, Feinerman is a member of the Society of Apheresis, the Society of Bone Marrow Blood Transplantation, the International Society for Cellular Therapy, the Society for Cranial Transplantation and Brain Repair, and the Society for Cardiac Translational Therapy. With over 55 years of experience in medical practice, he is currently the president and CEO of Stem Cell Regen Med.