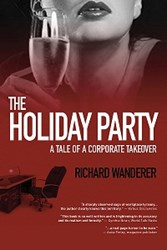 Reads Like A Movie
Los Angeles, CA (PRWEB) January 22, 2014
Richard Wanderer, who wrote, "The Holiday Party (A Tale of a Corporate Takeover), http://www.theholidayparty-ataleofacorporatetakeover.com was very interested in seeing a recent article in the Los Angeles Times concerning the taking of film production by other states and countries from L.A. "Certainly", Wanderer states, "California needs to be competitive on tax credits and advantages for film crews staying here - as the Los Angeles Times mentions - but crowning Hollywood as the authentic film capital of the world can be helped by letting the world know whose city this." He goes on to mention that two of the major airports in the L.A. area are named after famous Hollywood stars -Bob Hope Airport and the John Wayne Airport. "Wouldn't the world be put on constant notice that L.A. is the film capital of the world every time they hear L.A.'s major airport is called the "Jimmy Stewart Airport" rather than LAX?"
Wanderer recalls a 1990 tribute to Jimmy Stewart given by the late actor Robert Stack. Mr. Stack stated, "I have a feeling when I read in the papers about all the bad things in the world, there's nothing wrong that a group of Jimmy Stewarts couldn't go out and make right."
Richard Wanderer states, "Every holiday season, millions of people once again see what has become the 'traditional American Christmas Carol' - 'It's a Wonderful Life'. Once again, a young Jimmy Stewart comes alive again and delivers his everyman kind of great natural performance. The rich tradition of Hollywood's authenticity returns. Yet, this man wasn't just a great American actor, he was also a bona fide American hero who commanded a bomber group and led them 20 times over Nazi Germany during World War II. A great Oscar winning performer, Jimmy Stewart also retired from the U.S. Air Force as a Brigadier General."
Ringing the city of Los Angeles, Wanderer believes, with Jimmy Stewart Airport, Bob Hope Airport and John Wayne Airport would create a formidable group - certainly one that would continuously remind the world of the great tradition of Hollywood as the authentic film capital of the world - "The Tiffany of film production."
Website for the Los Angeles Times Article: http:http://www.latimes.com/entertainment/envelope/cotown/la-et-ct-on-location-20140114,0,7107787.story#axzz2qrwRbDX6
Richard Wanderer's background-
Wanderer is a California lawyer who has worked for almost 60 years in the advertising sales departments of major national magazines and newspaper chains in NYC and LA. There is a 3 minute video on youtube where he speaks about his novel at http://youtu.be/jtg9Fv_1mJE His novel, the critically acclaimed
"The Holiday Party (A Tale of a Corporate Takeover)"
http://www.theholidayparty-ataleofacorporatetakeover.com deals with the takeover of a family owned, employee friendly magazine, by a huge media conglomerate. The havoc the takeover media conglomerate creates for its new employees is where the story begins. It is published by Two Harbors Press and is availabl in soft cover and on Kindle and Nook.
Contact: Patricia O'Brien, St. Bernard Public Relations (818) 986-7777